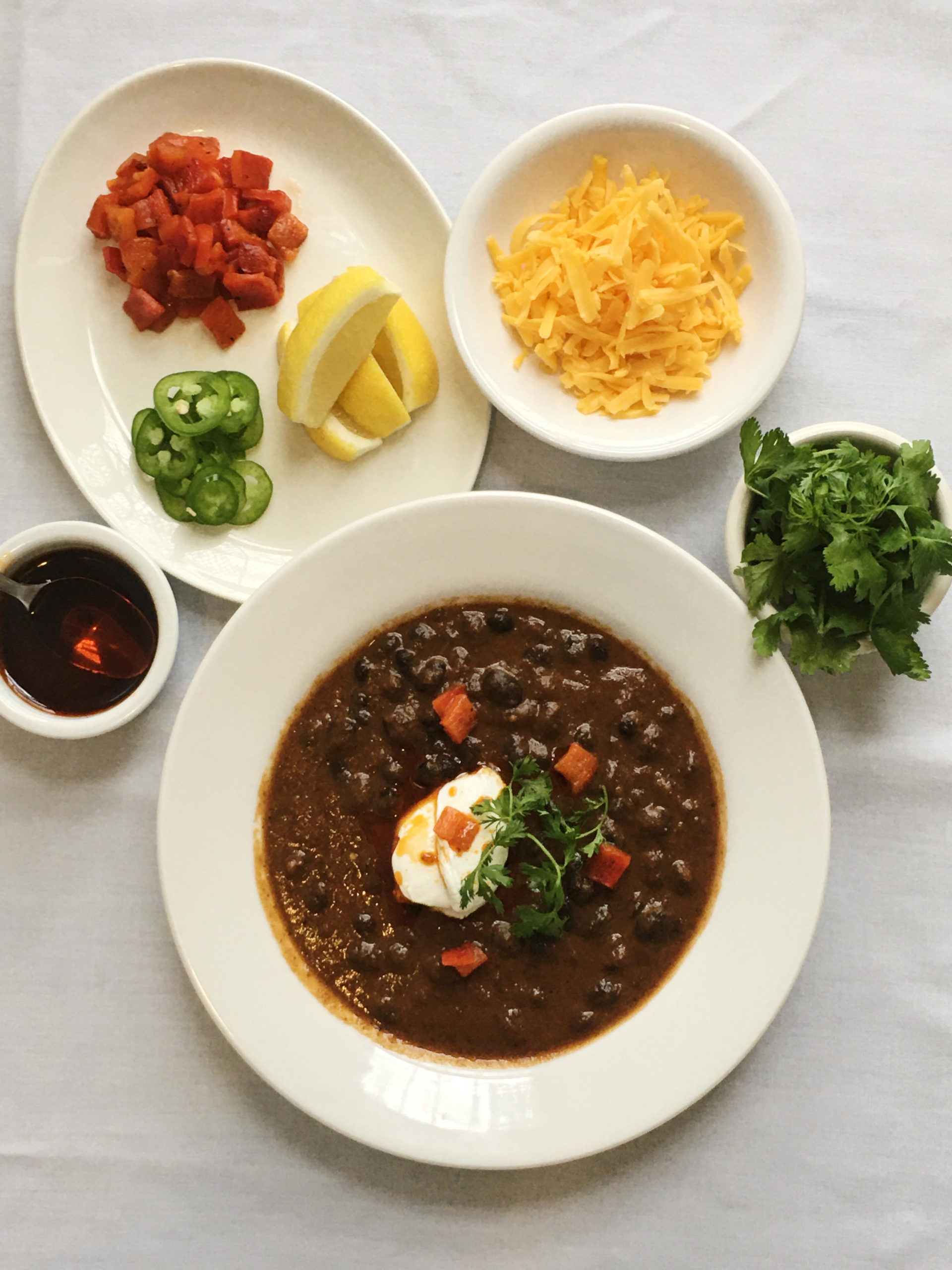 Black bean soup is hearty and comforting, and it's packed with flavors. I adapted a salsa making technique for this recipe; I roasted onions, jalapeños, garlic, and tomatoes until dark brown, and then I blended them with spices to make a base for the soup. Sounds complicated, but once you commit to the recipe, you'd be done in less than 40 minutes, I promise!
For the latest New Lifestyle Cooking Series:
Black Bean Soup with Yogurt
Serving Size: 4 Portions

Prep Time: 5 Minutes
Total Time: 40 Minutes
Ingredients:
For the Soup Base
5 tablespoons canola oil, split in half
1 medium sized onion, cut into wedges
1 head fresh garlic
1 piece jalapeño, seeded
2 Roma tomatoes (any tomatoes will do), halved
1 tablespoon ground cumin
2 teaspoons dried oregano
1 teaspoon chipotle puree
2 cups water (or chicken stock)
For Completing the Soup:
All the soup base
1 can (28 oz) black beans*, about 3.5 cups
1 + 1/2 teaspoon salt
1 cups water (or chicken stock)
*If you choose to use dry black beans, please soak 1 cup, for this recipe, in cold water overnight.
For the Condiments:
1 roasted pepper, medium dice
4 lemon or lime wedges
1/2 cup cilantro leaves
2 tablespoons sliced jalapeños,
2 tablespoons yogurt, per serving
1/2 teaspoon chili oil, optional
Make the soup base first. Pre-heat oven to 450F. Toss onions, garlic, jalapeño, and tomatoes with two-and-half tablespoons of canola oil. Slide the vegetables on to a roasting tray and roast for 25 to 30 minutes in the oven until nicely browned.
Meanwhile, in a medium pot, heat up the rest of the oil and toast ground cumin, dried oregano, and chipotle puree on medium heat until fragrant. Deglaze the pot with 1 cup of water to scrape up the brown bits from the bottom.
To roast a pepper, using medium heat, directly char a red bell pepper on the flame. Rotate it to char evenly. Once the skins are blackened, cover it with a lid in a mixing bowl until cool enough to handle
To peel the pepper, set up a bowl of warm water, dip your fingers in and use your wet fingers to peel off the charred skins. Dice up the pepper to the desired size.
Once the vegetables are caramelized, add them to the pot and add 1 more cup of water. Turn up the heat to medium high and cook the vegetables until softened. At this point, either use a blender to puree the vegetable mixture or use the back of a spoon to mash it up. The is the soup base.
Add the soup base, black beans, and water back in the pot and bring it up to a boil and turn it down to simmer. Season with salt.
To serve, ladle soup into a bowl, garnish with any condiments that are suggested in this recipe. Bon Appétit!