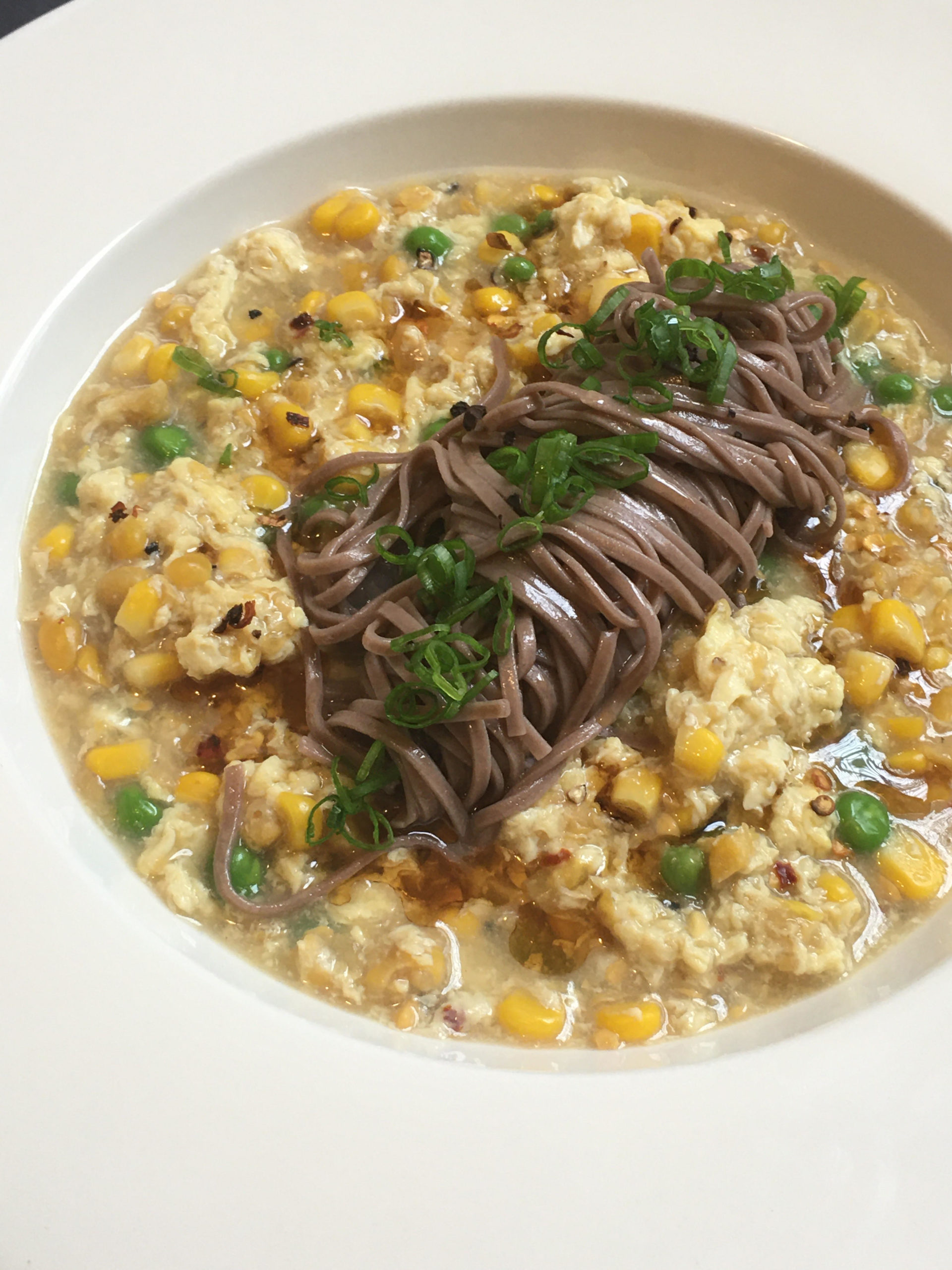 Creamed Corn Egg Drop Soup is one of the first dishes I learned to make when I was young. Creamed corn gives the soup a nice velvety texture while adding some sweetness. I added extra corn kernels, from a can, to give the soup some texture; each bite of the soup has a nice crunch of the corn. The result of this egg drop soup has a porridge consistency, and the texture of the egg curds are soft and pillowy. My nanny added ham, and my mom added chicken. I added peas to keep it vegetarian. You could enjoy this dish on its own or add to rice or noodles.
For the latest "New Lifestyle" Home Cooking:
Creamed Corn Egg Drop Soup 
Serves: 2 adults & 2 children
Prep Time: 20 Minutes
Total Time 30 Minutes
For Ingredients:
For Veggie Stock:
2 quart (or 8 cups) water
2 tablespoons sliced ginger
3 stalks of scallions, white parts only
4 cloves of garlic
1 tablespoon of black peppercorn
4 cups diced cabbage
For Egg Drop Soup:
5 Cups of Veggie Stock
2 cans (14.75 oz can) creamed corn
1 can (15.25 oz can) corn kernel
5 eggs, beaten
1 teaspoon salt
1 teaspoon crushed black pepper
1/4 teaspoon dried chilis
1/2 cup frozen peas
1 bunch dried noodles, about 4 oz. (optional)
Thinly sliced scallions, the green parts
Sesame Oil, to season at the end
Make veggie stock before making egg drop soup by combining everything in a pot and bring it up to a simmer. Simmer for 20 minutes.
Use only 5 cups of the veggie stock and reserve the rest for another use.
Bring 5 cups of veggie stock to a boil and turn down to simmer, add creamed corn and cook until the soup thickens a little. Add corn kernels and seasoning.
Turn the stove to medium-low and slowly pour in the eggs in a steady stream, leave the eggs to cook for 5 to 10 seconds and break up the curds gently. Keep the fire on medium-low to finish cooking the eggs. Add the peas and warm them through.
To serve, ladle a generous amount of soup into a bowl and pile on some noodles or rice. Drizzle some sesame oil and garnish with scallions. Bon Appétit!