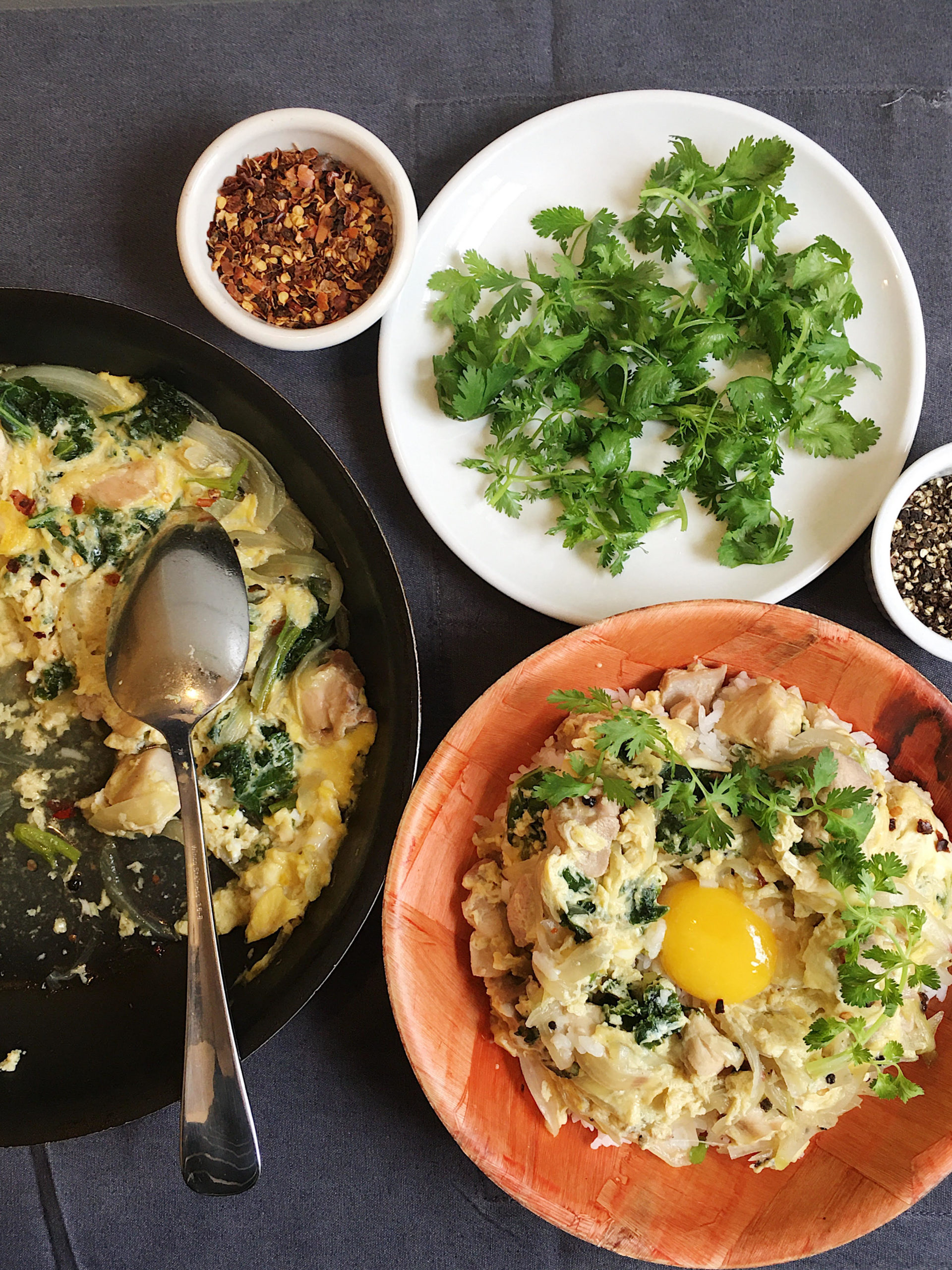 Oyakodon mean "chicken and egg rice bowl", and it is a popular dish at home or at restaurants in Japan. In Japanese, "oya" means parents, and "ko" means child; therefor, oyakodon means "parents and child rice bowl", which also makes perfect sense because chicken is cooked with eggs. Oyakodon is easy to prep and simple to cook. You don't have to stick to the script, by following a traditional recipe, when making oyakodon. To me, oyakodon is cooking chicken and eggs with care, and adding flavors and ingredients that'd make this dish soulful and comforting.
For the latest (New Lifestyle) Home Cooking Series:
Oyakodon
Serves: 2 Adults & 2 children
Prep Time: 10 Minutes
Total Time: 30 Minutes
Ingredients:
For Oyakodon
1 + 1/2 cup chicken stock
1 teaspoon salt, and adjust to season
2 teaspoon crushed black pepper, and adjust to season
1/2 teaspoon dried chili flakes, and adjust to season
2 + 1/4 cup sliced onions
2 cups chopped kale
1 + 1/4 cup diced chicken thighs, boneless and skinless
(1 large or 2 small thighs)
3 Eggs, beaten
1 Yolk (optional)
Few sprigs of cilantro for garnish (optional)
For Rice:
1 + 1/2 cup long grain jasmine or basmati rice
2 + 1/2 cup water
Wash your rice until water runs almost clear (it won't be 100% clear). Let rice drain over a colander until dry, in about 20 to 30 minutes
Cook rice using a rice cooker or a pot (pot should be big enough to fit both rice and water and still have at least 4 to 5 inches of space above the water line). If using a pot, bring rice and water to a boil and turn to simmer with a lid on. Cook until water is completely absorbed and leave the lid on for extra 10 minutes before opening it.
To make oyakodon, in a non-stick skillet, bring stock to a boil on medium high heat and season with salt, black pepper, and chilies. Add onions and kale, and reduce the heat to medium and cover with a lid. Cook onions and kale until soft, in about one and half minutes.
Once the onions and kale are soft, add chicken and put the lid back on. Cook the chicken until done, in about 4 minutes. Open the lid and slowly pour your eggs in in steady stream. Adjust the heat to keep the soup bubbling. Cover the skillet and let eggs cook for 15 seconds. Depending on your preference for the eggs, cook them longer if you want them well done.
To serve, put rice in a bowl and ladle a generous amount of oyakodon over it. If you are not squeamish about raw eggs, add a raw yolk for extra richness. Garnish with cilantro, and Bon Appétit!