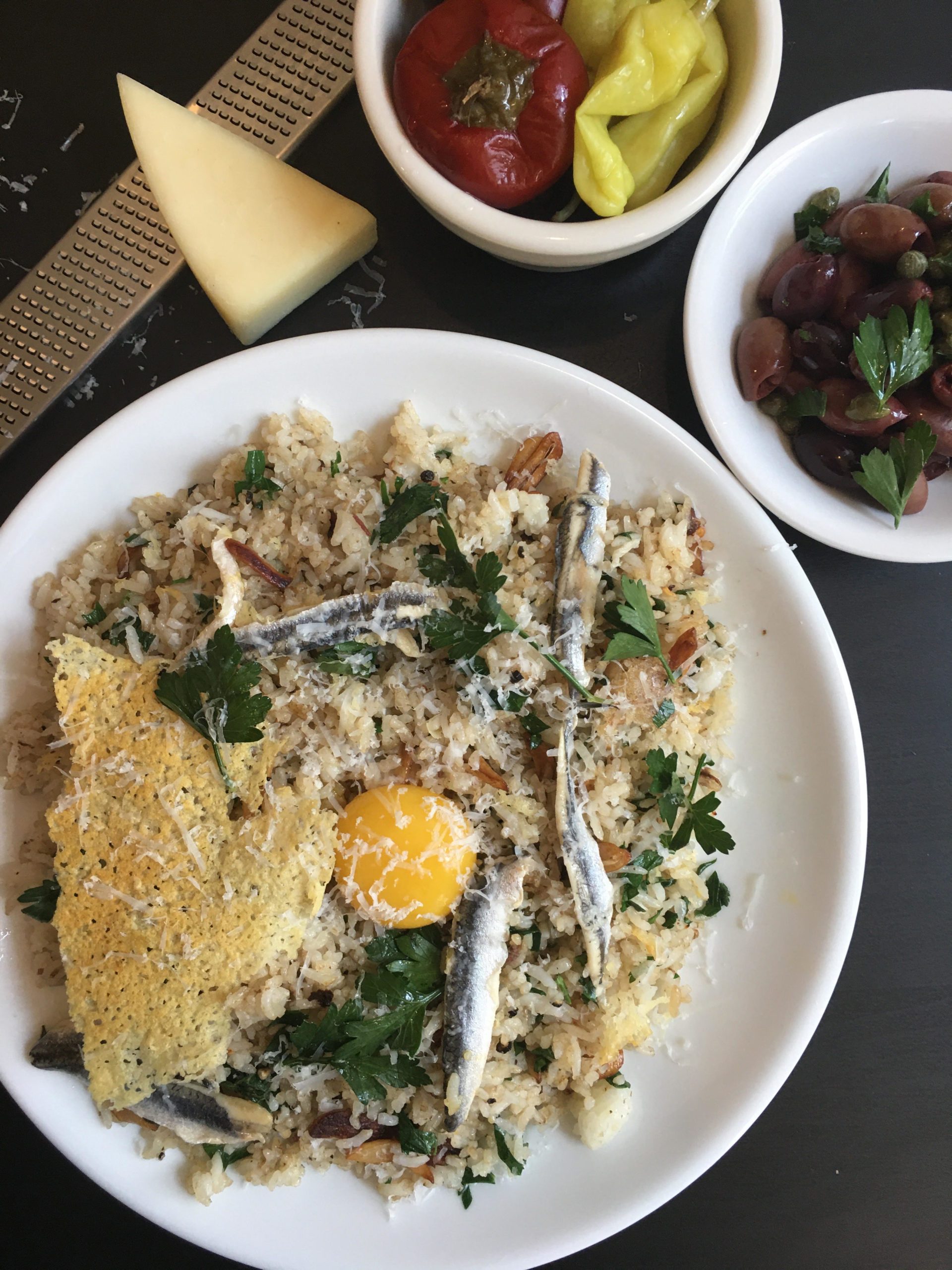 I came across a fried rice recipe with anchovies and parmesan in a cookbook. I decided to try this dish because both anchovies and parmesan have tons of umami flavor and could perhaps replace soy sauce in a pinch. The result of this dish is satisfying. Although this dish is far from being Asian, anchovies and parmesan provide delightful flavors to make this dish sing. In the end, you'd end up with something deep, salty, garlicky, and earthy with a handful of parsley. I have made a lot of fried rice in my life…and this recipe is definitely on the top five.


For the latest New Lifestyle Home Cooking:
Anchovies Parmesan Fried Rice
Serves: 2 adults

Prep Time: 5 Minutes
Total Time: 20 Minutes
Ingredients:
5 cloves garlic, sliced
2 tablespoons EVOO
1 can (2 oz.) anchovies fillet
4 + 1/2 cup cooked long grain rice, at least 1 day old
1 cup grated Parmesan, split into 2 parts
1/2 cup chopped parsley
1 teaspoon crushed black pepper, adjust to season
1 teaspoon dried chilies, adjust to season
6 fillets of Boquerones (marinated white anchovies), optional
1/2 cup grated Parmesan*, for making a chip (see note)
Using a non-stick skillet, heat up EVOO on medium heat, sauté garlic until golden brown.
Add anchovies and rice at the same time. Spread out the rice in the skillet and leave it untouched for a minute to warm up. Once the rice is warmed up, it'd be easier to handle
At this point, anchovies should start to disintegrate into the rice. Gently stir up the rice to mix it in. Season the rice with black pepper and chili.
Add 1/2 cup of grated parmesan and chopped parsley, toss or stir to combine.
To plate, spoon the fried rice onto a plate and sprinkle the rest of the 1/2 cup parmesan on top. Add a few fillets of white anchovies, but that's optional.
If you are not squeamish about raw eggs, stir in a raw yolk. Bon appétit!
Note: To make Parmesan crisp, add the 1/2 cup grated Parm into a clean non-stick skillet and melt the cheese over medium heat. Keep the Parmesan on medium heat and it will become brittle. Flip Parmesan over and cook the other side for less than 20 seconds, and then you'd end up with a piece of crispy Parmesan.