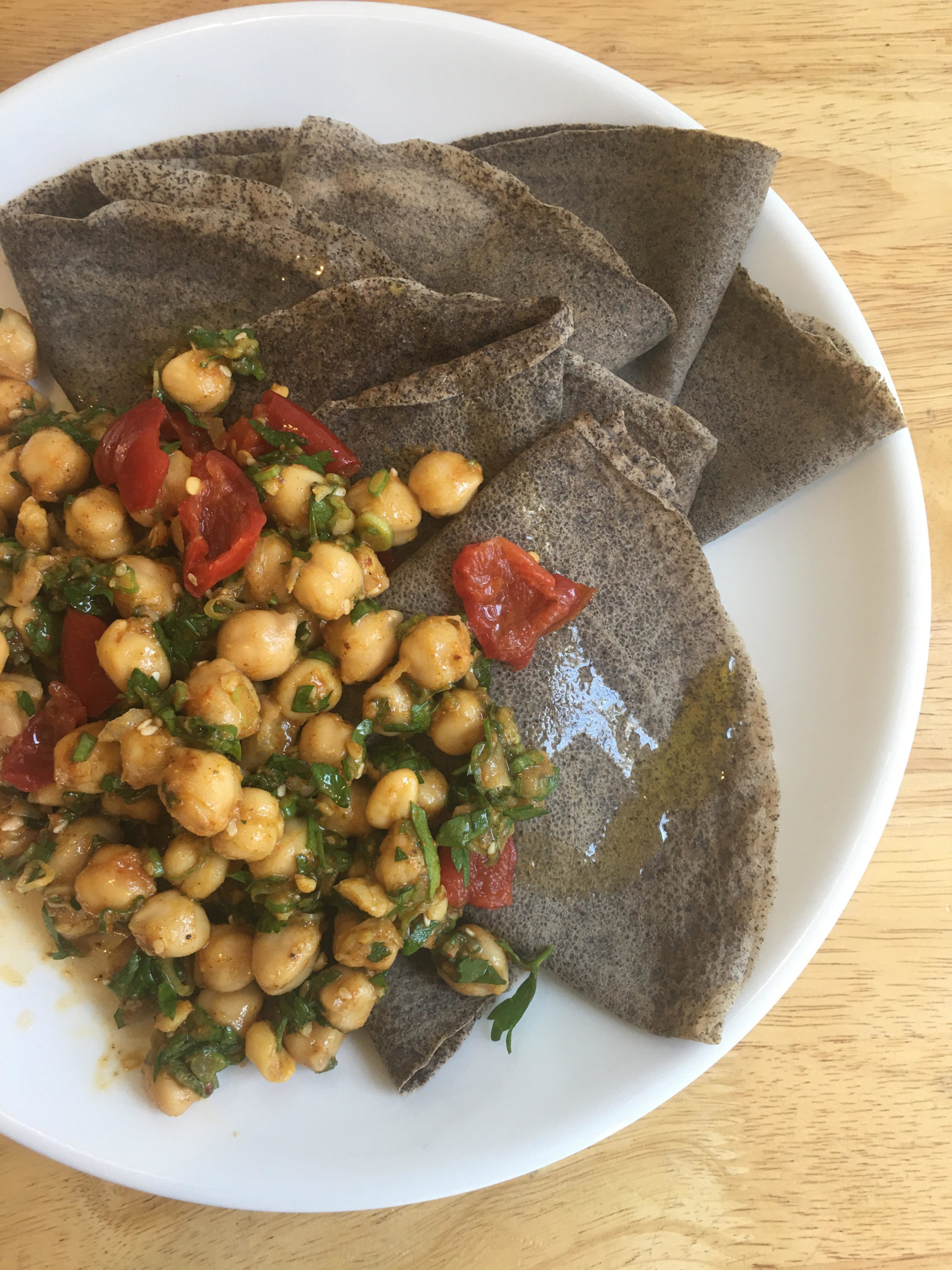 I love incorporating buckwheat into crepes because of its added nutty flavor. This gluten free version holds up very well; the crepe batter doesn't need any chemicals or AP flour to help it maintain the structure. My chickpea salad is filled with flavor bombs; it has fresh herbs, spices and garlic, and dressed with fresh lemon juice and extra virgin olive oil. One great advantage of having crepe as part of the meal is to use it to mop up the sauce at the end!
For the latest COVID 19 Home Cooking Series:


Buckwheat Crepes with Chickpea Salad
Serves: 2 adults & 2 children
Prep Time: 15 minutes
Resting Time: 1 Hour (resting crepe batter)
Total Time: 1 Hour 30 minutes
Ingredients
For Crepes
120g (1 cup) Buckwheat Flour
3g (3/4 teaspoon) Salt
2 Eggs
225g (1 cup) Milk
14g (1 Tablespoon) Butter
1/4 cup Water, for adjusting consistency 
For Chickpea Salad
1 can (28 oz) Chickpeas
1 Lemon, juiced
1/2 cup EVOO
1/8 cup White Distilled Vinegar
1 teaspoon Salt
3 cloves Fresh Garlic, grated
1 teaspoon dried chilies (such as Thai bird chili, arbol, cayenne)
2 Tablespoon Za'atar Spices
1 teaspoon Madras Curry Powder
2 teaspoon Spanish Paprika
1/4 cup chopped Mint
1/2 cup chopped Parsley
1/4 cup chopped Scallions
1 piece Pickled Chilies, rough chopped or hand torn (optional)
To make the crepe batter, using a blender and blend everything, except water, until smooth. Let the batter rest for 1 hour.
Adjust the consistency of the crepe batter with 1/4 cup of water (I prefer a thinner batter, this step is optional)
Pre-heat a non-stick skillet on medium low heat for 4 minutes. Heating your cooking vessel slowly will help you cook more evenly.
After 4 minutes, gently wipe the surface with oil, or butter, or cooking spray. You want the surface to be non-stick, yet not grease.
Use a 1/4 cup or a 2 oz. ladle and scoop the batter into the middle of the skillet. Holding the skillet handle, swirl the batter around until almost paper thin. Cook the first side until the edges are set and comes off the skillet. Using both hands to lift the crepe and flip. Cook the second side for 5 to 10 seconds. Fold the crepe in half and leave it on rack to cool. Repeat the cooking procedures with the rest of the batter
To make the chickpea salad, drain chickpeas and use a fork to crush about a 1/4 cup of chickpeas inside a mixing bowl. Pour in lemon juice, EVOO, and vinegar and mix. Add salt and grated garlic and stir to combine.
Add spices and stir to combine, and then add the chopped herbs. If the salad is too clumpy, add few dashes of water or lemon juice to loosen up. The salad should be juicy and bright looking.
To serve, fold crepes into quarters and fan them out on a plate, place chickpea salad next to the crepes. Add some pickled chilies if you wish and drizzle EVOO to finish. Bon Appétit!