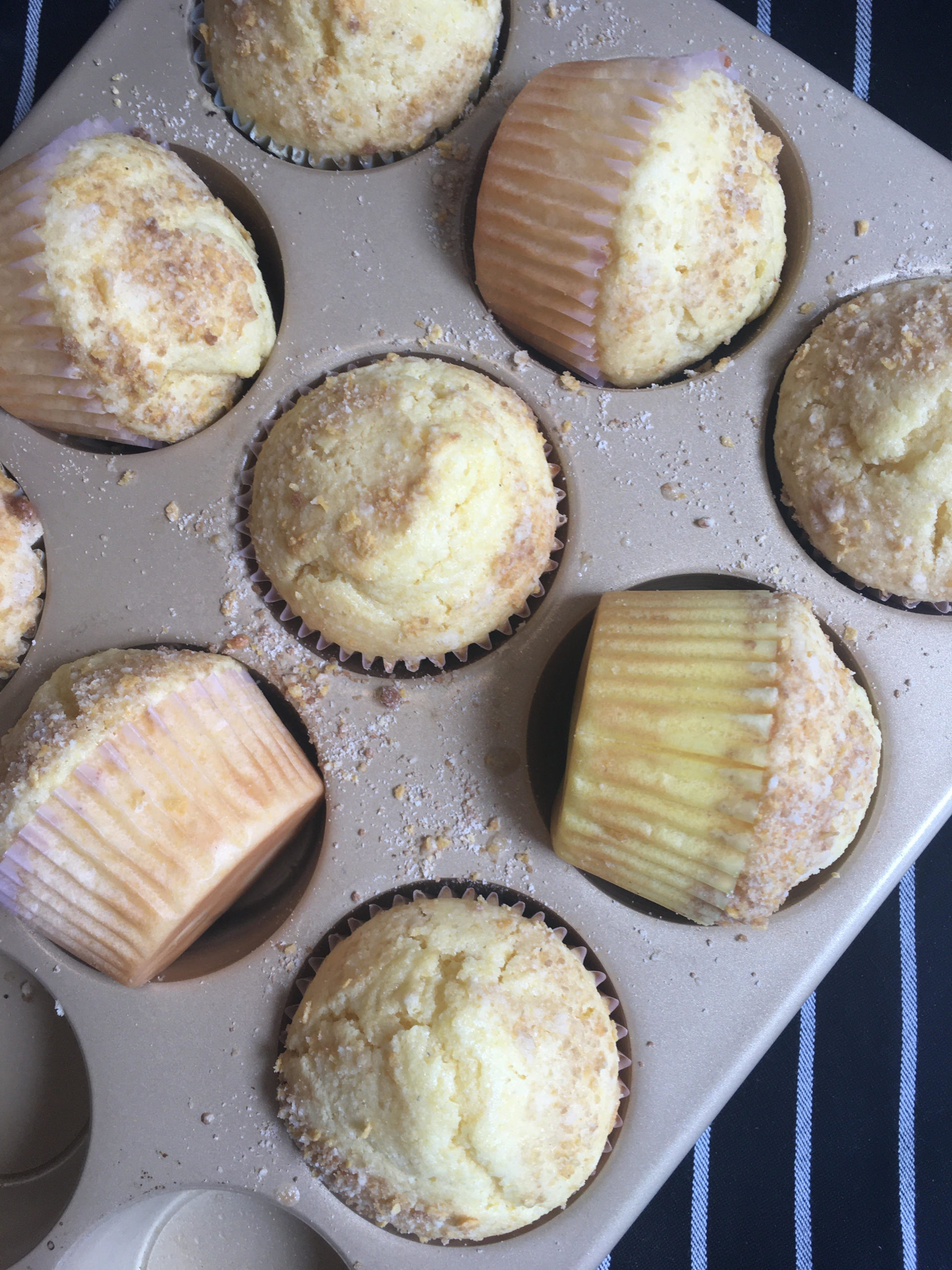 I am getting obsessed with baking muffins and cakes because seeing different results from using different techniques on same recipe fascinates me. "Creaming with Butter", "Creaming with Eggs", and "Straight Up Mixing" are three important methods in baking. While each one of them will provide different results, no method is perfectly right for any recipes. Applying personal preference in choosing a method will give you the best result. Also…don't forget to bake with love!
For the latest COVID 19 Home Cooking Series:
Cornbread Muffins w/ Corn Flake Streusel
Serves: 10 Muffins
Prep Time: 15 Minutes
Bake Time: 18 to 23 minutes
Total Time: 38 minutes (not including cooling)
Ingredients:
For Muffins:
160g (1 cup) Cornmeal
135g (1 cup) Gluten Free Flour
1 Tablespoon Baking Powder
1 teaspoon Salt
115g (1/2 cup) Sugar
2 Eggs
115g (1 stick) Butter
245g (1 cup) Milk
For Corn Flake Streusel:
2 Tablespoon Gluten Free Flour
1 Tablespoon Brown Sugar
1 Tablespoon Butter
1/4 cup Corn Flakes
Pre-heat oven at 400F
Mix dry ingredients: cornmeal, gluten free flour, baking powder, and salt together
Using a stand mixer or an electric mixer, beat butter on high speed until pale and creamy. Add sugar and continue beating butter and sugar until fluffy. (This is the "creaming with butter" method, which I find it to be the best for muffins for my own preference)
Turn mixer down to low setting, add flour mix, 2 stages at a time to avoid making a mess, and slowly incorporate until evenly mixed. Finally, add the milk and mix to combine. Your muffin batter should be thick, yet fluid.
To make corn flake streusel, simply put all the ingredients inside a food processor and pulse until butter is reduced to pea-size, like making a pie dough. Alternatively, you could crush corn flakes with your hands and cut the butter into flour separately, and then combine everything.
Butter or grease your muffin tin, or line them with paper cups, fill your muffin tins to the top with cornbread batter and sprinkle on corn flake streusel. Bake muffins for 18 to 23 minutes.
Test doneness by inserting a skewer into the middle of a muffin and it should come out clean. Rest muffins for 10 minutes, and then cool them on a rack for extra 10 minutes before digging in. Bon Appétit!