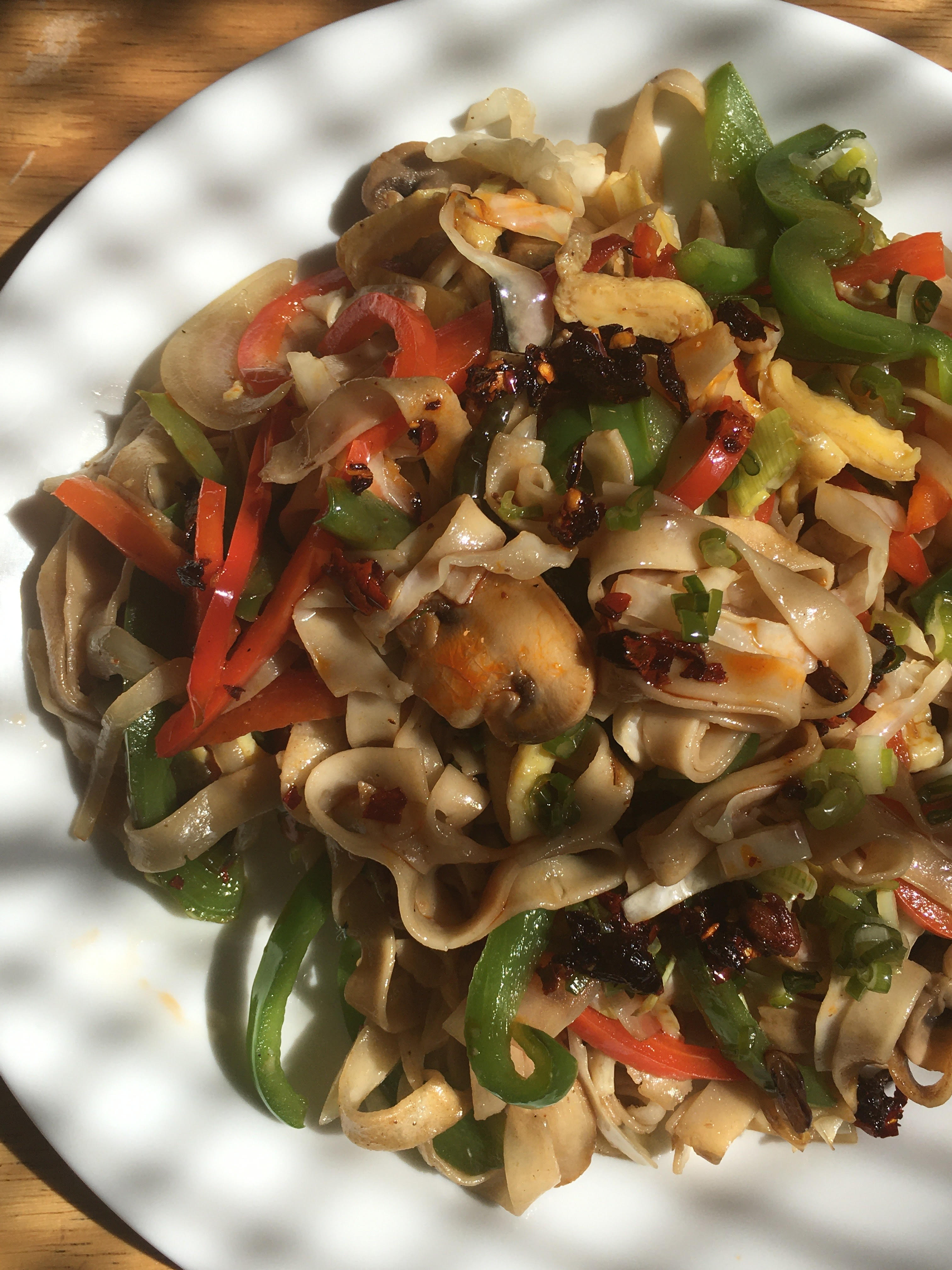 (Stir Fry Noodles, by Reggie Soang)
One of my friends needed help figuring out how to have her noodles not stuck together in a stir fry. The step to solve this problem is to rinse the noodles after cooking in water; this step will get rid of excess starch and prevent them from sticking during stir fry. Go on…give it a try!
For the latest COVID 19 Home Cooking Series, I present you:
Stir Fry Noodles
Serves: 2 adults and 2 children
Ingredients:
4 portion noodles ( any Asian variety, or even dried Italian pasta)
4 cup red bell pepper, sliced into strips
4 cup green bell pepper, sliced into strips
4 cup cabbage, sliced into strips
1 yellow onion, sliced
10 pieces button mushroom, sliced
10 pieces scallions, cut into batons
8 cloves garlic, sliced
3 eggs, scrambled
1/4 cup soy sauce, or to taste
2 teaspoons Salt, or to taste
1 teaspoon MSG, or to taste
Ground White Pepper, to taste
Chili sauce (optional)
Bring a pot of water to a boil and cook your noodles until almost done, drain and wash them under cold water. Wash noodles until water is clear and drain.  Add 1 tablespoon of oil to lubricate noodles
Add enough oil to cover your skillet and turn on high heat. When oil starts to shimmer, add your veggies. Stir fry your veggies separately if your pan or skillet is not big enough. Don't crowd the pan during stir fry. Mix the cooked veggies in a mixing bowl
Wipe off your skillet and put it back on high heat with thin layer of oil. Add noodles to the skillet and gently stir them around. Let noodles sit and undisturbed for couple minutes to get some color and crispy edge. Once noodles are nicely fried, add eggs and deglaze with soy sauce. Turn off the heat.
Mix noodles with veggies and season (salt, MSG, soy sauce, white pepper) to taste
To serve, plate your noodles on a plate and drizzle with any chili oil or flavored oil on hand. Bon Appétit!