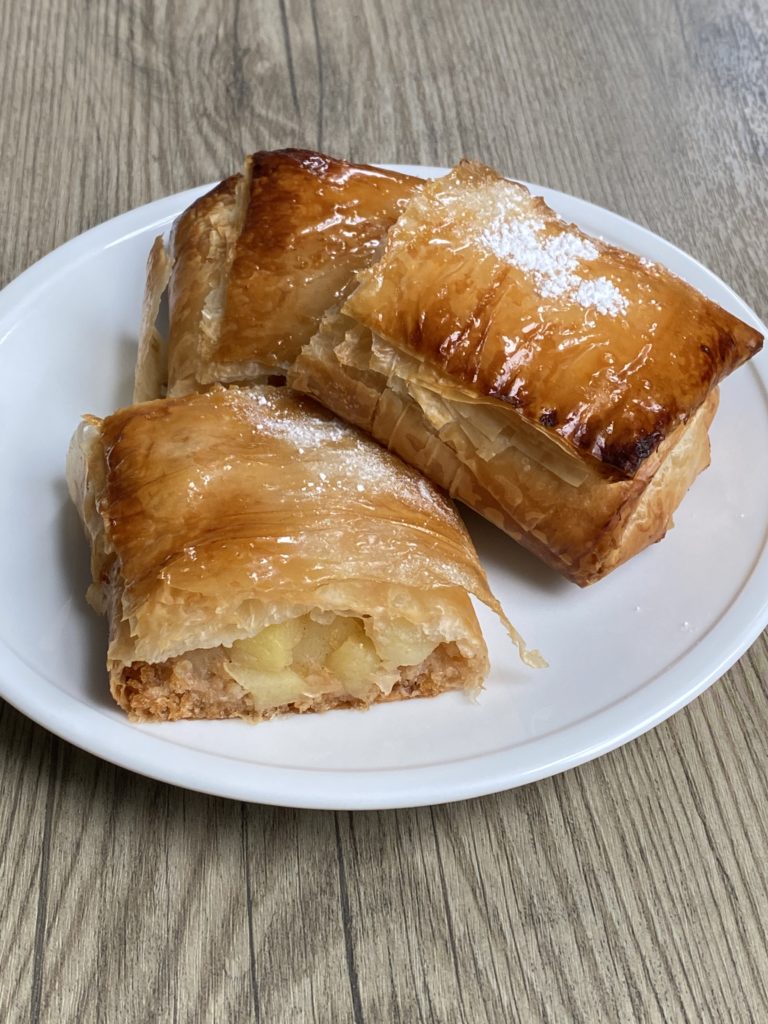 Prep Time: 30 minutes
Baking Time: 25 minutes
Total Time: 1 hour 30 minutes
Ingredients:
6 sheets phyllo pastries
6 tablespoons butter, divided into 2 and 4 tablespoons
1/2 cup (40g) panko, Japanese breadcrumbs
1 & 1/2 pound chopped apples, 1/4-inch chunks
4 tablespoons sugar (52g) sugar
1 lemon, zest
1 lemon, juiced
1/2 teaspoon ground cinnamon
1/4 teaspoon ground ginger
1/4 teaspoon salt
2 tablespoons of confectioner's sugar, for dusting
Defrost phyllo dough in the fridge overnight (note: must do it this in the fridge otherwise the phyllo sheets will stick to each other)

Melt 2 tablespoons of butter in a pan over medium heat and toast panko in the butter until golden brown. The breadcrumbs should smell like brown butter.

Peel the apples and cut them into quarters and get rid of the core. Cut the apples into 1/4-inch chunks.

Mix the apples with sugar, lemon zest, lemon juice, ground cinnamon, ground ginger, and salt in a microwavable bowl. Cover the bowl with plastic and microwave for 2 minutes.

Drain the apples and reserve the liquid.

Take out the phillo pastries and keep them under a plastic and a clean towel. Meanwhile, melt the rest of the butter and pre-heat the oven at 375 Fahrenheit,

Lay a piece of parchment paper, 16" x 12", on a counter, and then place a sheet of the phyllo pastry on it. Brush phillo pastry lightly with melted butter and dust confectioner's sugar, about 1/4 teaspoons worth, on top. Repeat the process with 6 sheets of phillo pastry and stack them on top of each other. Wrap up the rest of the phillo pastries and seal tight. Keep them refrigerated or frozen.

Leaving 2-inch space from the sides and the bottom edge of the phillo pastries, place half of the toasted breadcrumbs in a 3-inch strip across. Add 1/3 amount of the apples (use the rest of the apples for more strudels) to the top of the breadcrumbs.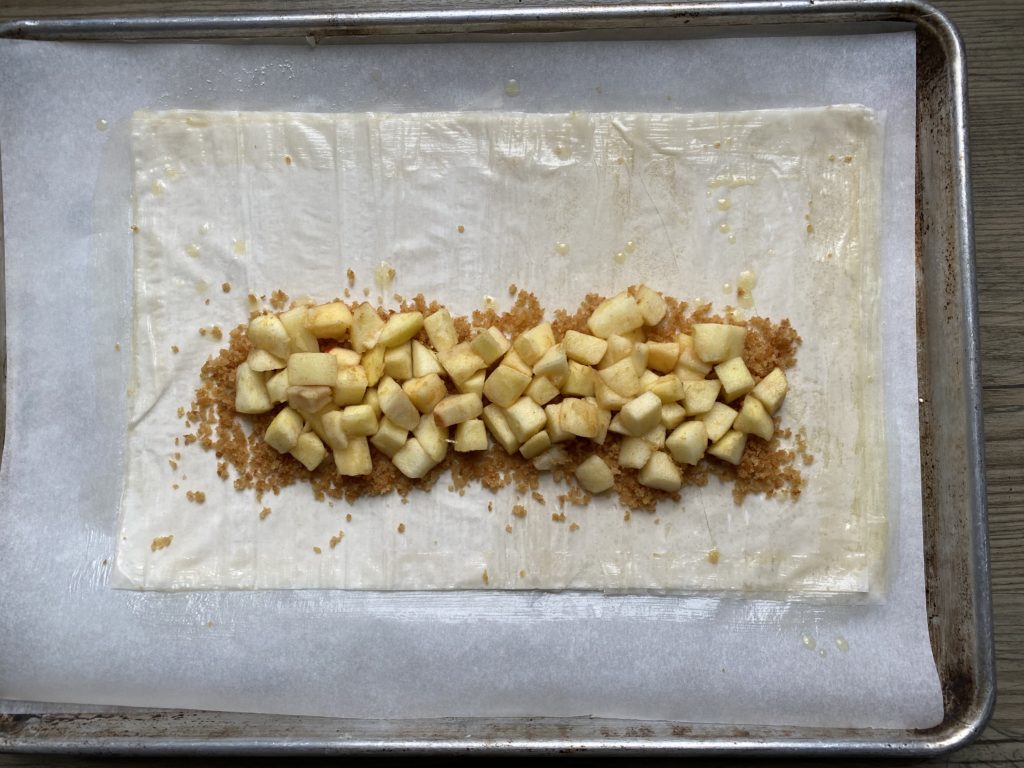 Lift one side of the parchment paper (either left or right) and fold in the phillo pastries. Use your hands to seal the dough. Do the same from the other side.

Lift the bottom edge of the parchment paper and fold the phillo pastries over, leaving only half the filling exposed. Brush the edges of the pastries with the reserved apple juice. Seal the strudel by folding the other side over the top. Brush the outside with apple juice until it looks shiny and dust the top with confectioner's sugar.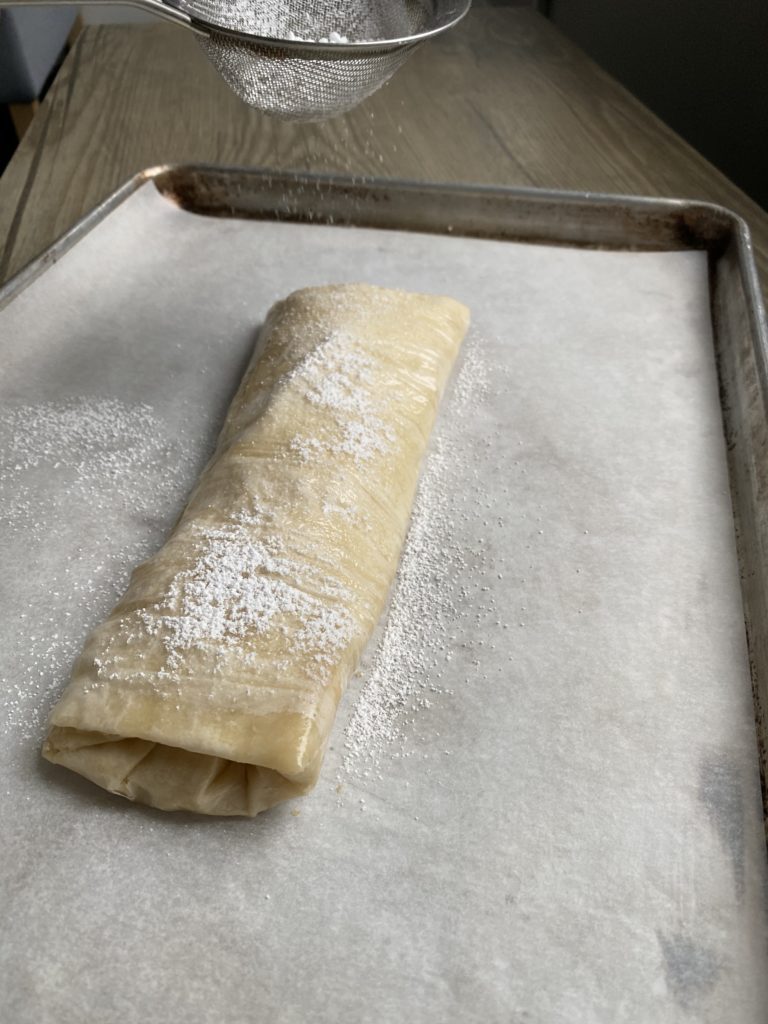 Bake the apple strudel on a baking sheet with a piece of parchment paper for 25 minutes. Turn it around midway. Rest the strudel for 5 minutes before cutting it.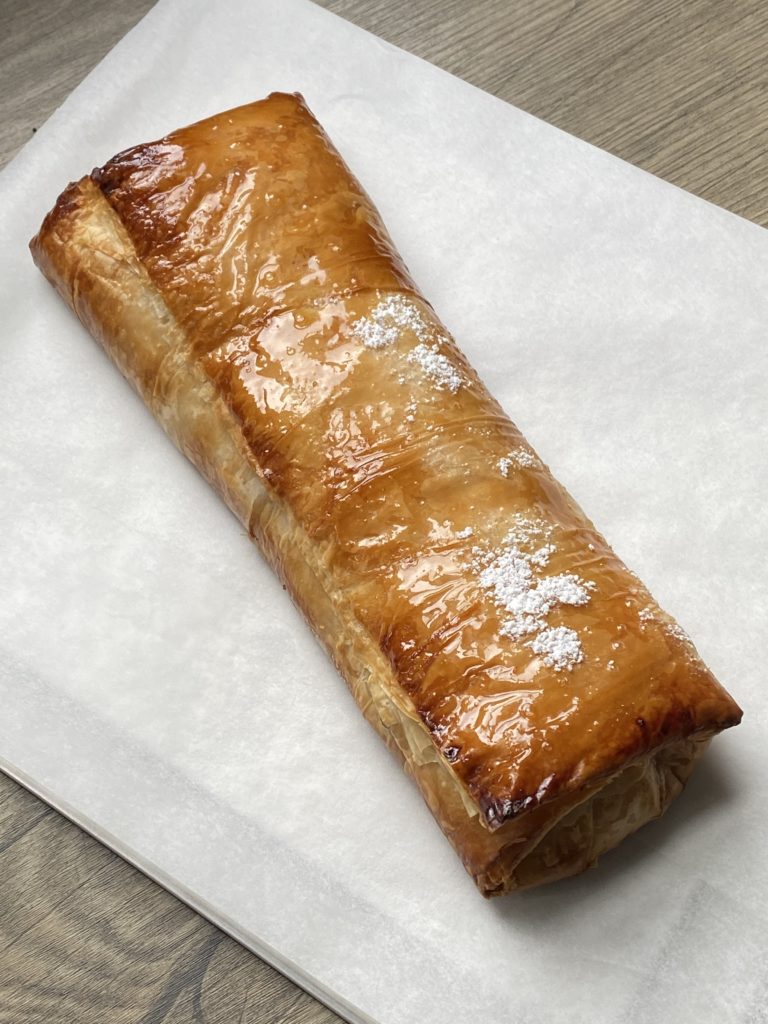 Cut the strudel into 2 to 3 inches wide, don't cut them too thin because the fillings will fall out. Enjoy the strudel with more dusted sugar or drizzles of honey. Bon apptité!