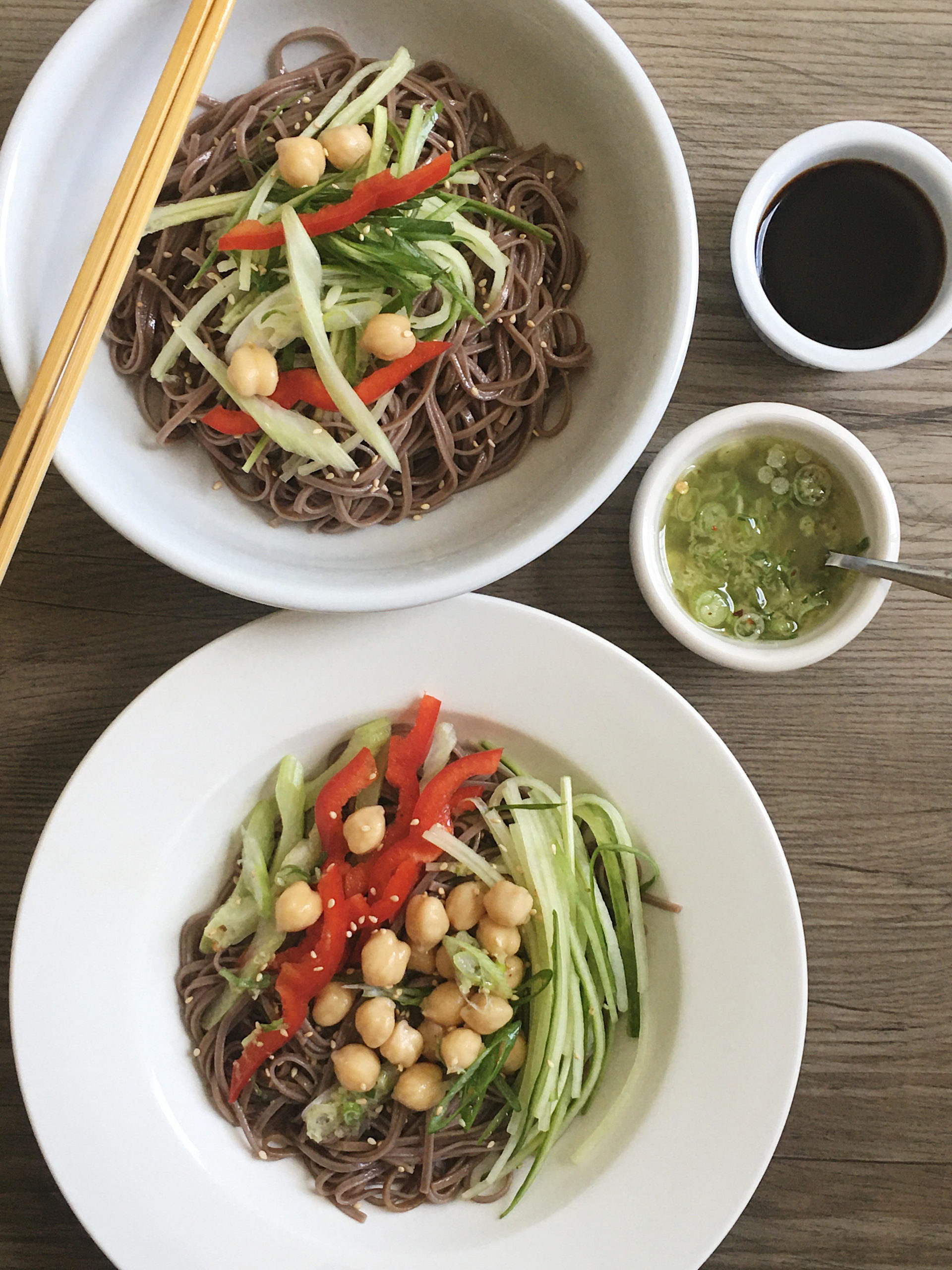 A delicious and healthy Asian noodle salad is the perfect choice for lunch; the salad is flavorful and vibrant. Edamame, snow peas, string beans, bean sprouts, red cabbage, or shredded carrots complement the salad brilliantly as well. Keep the salad fresh and clean, this dish deserves to be on the weekly menu.
For the Latest New Lifestyle Cooking Series:
Soba Noodle Salad with Ginger Scallions and Soy Vinaigrette
Serves: Makes 2 bowls
Prep Time: 15 minutes
Total Time: 20 minutes
Ingredients:
For Ginger Scallion Sauce:
1/4 cup sliced scallions, into a coin shape
1 tablespoon grated ginger
1/4 cup cooking oil
1/2 teaspoons MSG
1/4 teaspoon salt
1/4 teaspoon chili flakes
For Soy Vinaigrette:
2 tablespoons soy sauce
1 teaspoon mirin
1 teaspoon rice wine vinegar
1 teaspoon cold water
For the salad:
1/4 cup sliced red bell peppers, little bigger than a matchstick
1/4 cup sliced celery, on a bias
1/2 cup sliced cucumbers, in thin strips
1 stalk scallion, thinly sliced on a bias
1/4 cup cooked or canned chickpeas
2 portions of soba noodles, according to the package
2 tablespoons dark sesame oil
1 tablespoon toasted sesame seeds
Prepare all your sauces and veggies before cooking your noodles.
For ginger scallion sauce, prep your scallions and ginger accordingly and mix everything together, set aside
For soy vinaigrette, combine everything together and set aside
Bring a pot of water to a boil to cook soba noodles. Meanwhile, prep your veggies accordingly and set aside. One tip on cutting the veggies, cut them thin but leave some crunch.
Cook the soba noodles according to the package's instructions and drain and run them underneath of cold water until completely chilled. Stir in sesame oil.
To serve, scoop 1 tablespoon of soy vinaigrette per portion into a bowl and lay the noodles on top. Place red bell peppers, celery, cucumbers, scallions, and chickpeas around the bowl. Drizzle the veggies with ginger scallion sauce, as much as you like. Sprinkle on toasted sesame seeds to finish. Bon Appétit!