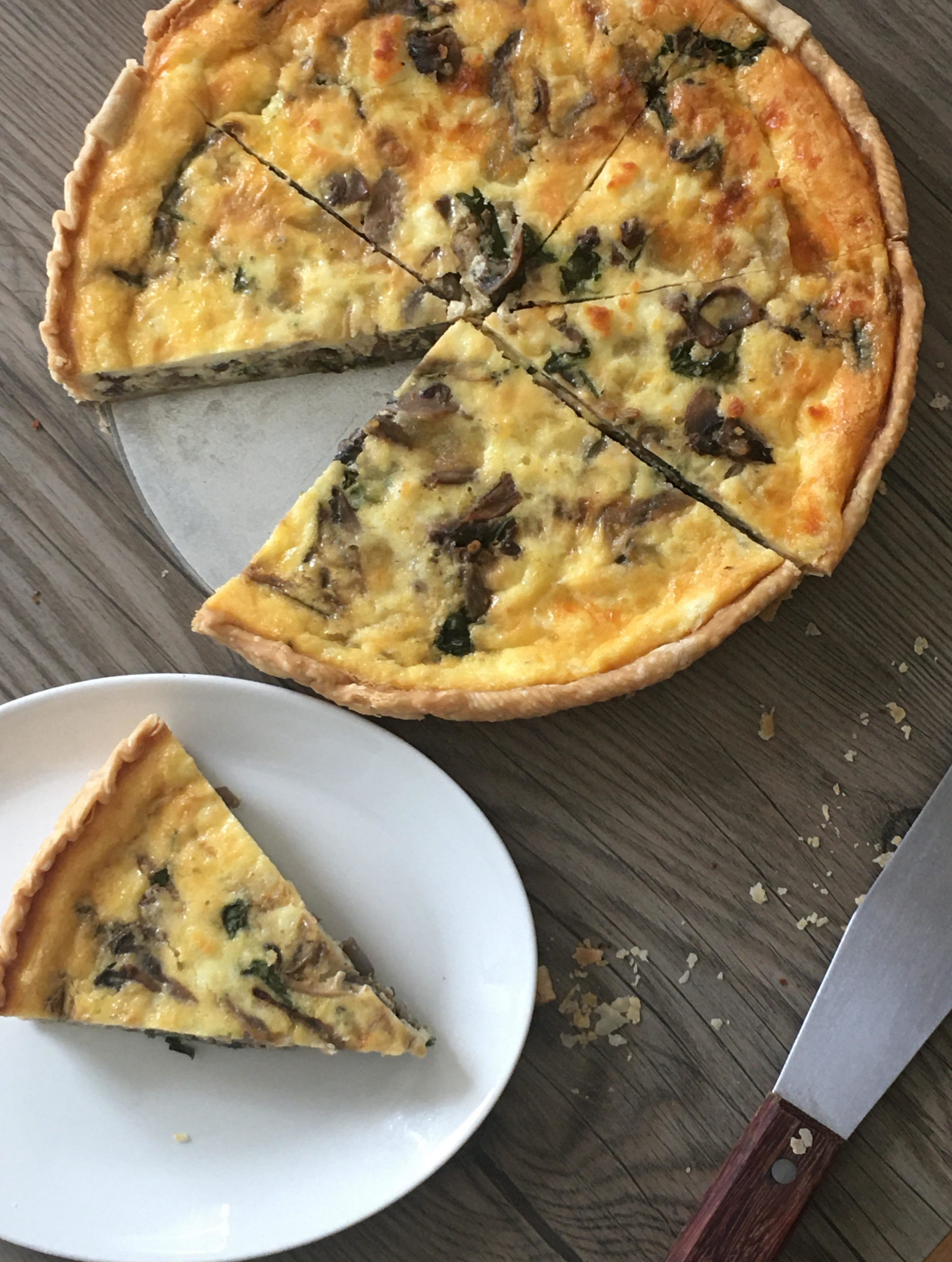 Quiche
Makes: 1 9-inch pie

Prep Time: 30 minutes
Total Time: 2 Hours
Ingredients:
For the Custard Base:
4 Eggs
1 Cup/250g cream
1/2 teaspoon salt
*Pie crust is store-bought
Quiche Fillings:
3 cups sliced button mushroom
3 cups baby arugula
1 + 1/2 cup sliced red onions
2 cups shredded cheese (mozzarella, cheddar, or gruyere) 
2 teaspoon salt
1 teaspoon ground black pepper
2 cloves fresh garlic, grated
Pre-heat oven at 350F
Fit the pie crust into a tart or pie pan. Dock the pie dough gently with a fork all over. (make sure the dough is chilled before proceeding to blind baking process)
To blind bake the pie crust, line the crust with parchment or foil and fill it with dried beans or pie weights so that the crust stays flat during baking. Bake for 20 minutes. After 20 minutes, remove the weight and parchment, and continue baking until the bottom of the crust is light golden brown and cooked, which takes about 10 more minutes. 
Lower the oven temperature to 325F once the pie crust is done. The crust must be cooled before proceeding to bake the quiche.
Meanwhile, make the fillings by sauteing mushrooms and onions. Put the cooked mushrooms and onions in a mixing bowl and mix in the arugula. Grate fresh garlic and mix well. Chill the fillings completely before proceeding to make the quiche
Once the crust and fillings are cooled. Spread out the fillings and pour in the custard base. Bake the quiche in 325F oven for 45 minutes to 1 hour, until the center is just set.