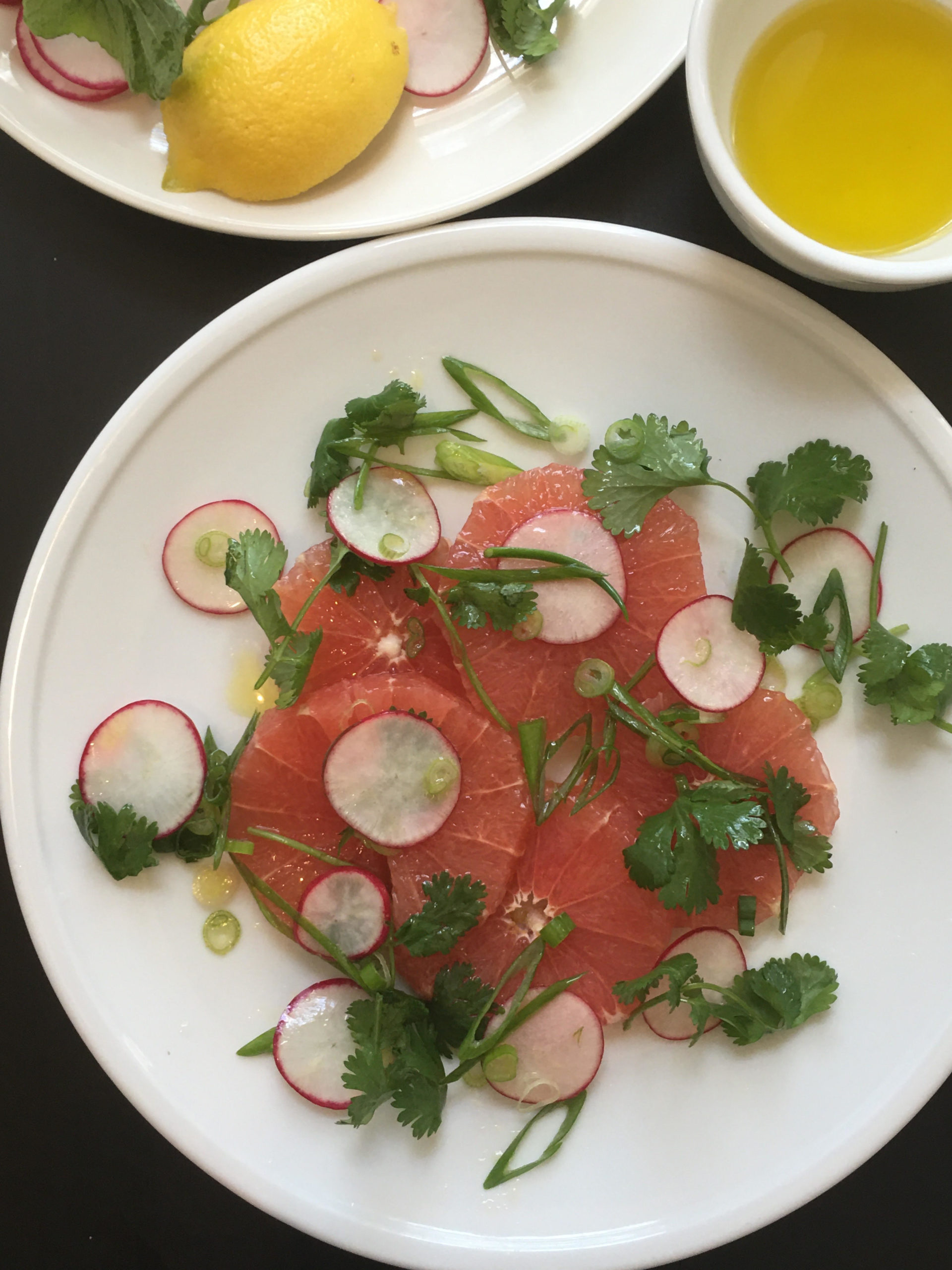 A simple grapefruit salad opens up the appetite for a more comforting main course. To balance out the bitter, yet joyful, flavor of grapefruit, add some crunch with radishes, some sharpness with scallions and cilantro. This salad is best served right away with a squeeze of fresh lemon juice and drizzles of EVOO.
For Mother's Day, 2020

Grapefruit Salad with Radishes, Cilantro, Scallions
Serves: 4 portions

Prep Time: 10 Minutes
Total Time: 15 Minutes
Ingredients:
3 Grapefruit
4 pieces radishes, sliced into 1/16-inch coins
2 stalk scallions, sliced 1/8-inch thick on the bias
1/2 cup cilantro leaves
6 tablespoons lemon juice
6 tablespoons EVOO
salt, to taste
To peel a grapefruit, sliced the top and bottom off and set it on the cutting board. Slant the knife inward at 45 degrees and cut the peels off from top to bottom of the grapefruit. Trim off any excess pith. Turn the grapefruit over and sliced it into 1/4-inch thick puck or wedges.
Place grapefruit slices in the middle of the plate and drizzle 2 tablespoons of each lemon juice and EVOO over them. Sprinkle a pinch of salt.
In a mixing bowl, dress the radishes, scallions, and cilantro leaves with the rest of lemon juice and EVOO, add salt to taste. Sprinkle the radishes, scallions, and cilantro around the plate, and then some on top of the grapefruit. Serve immediately. Bon appétit!