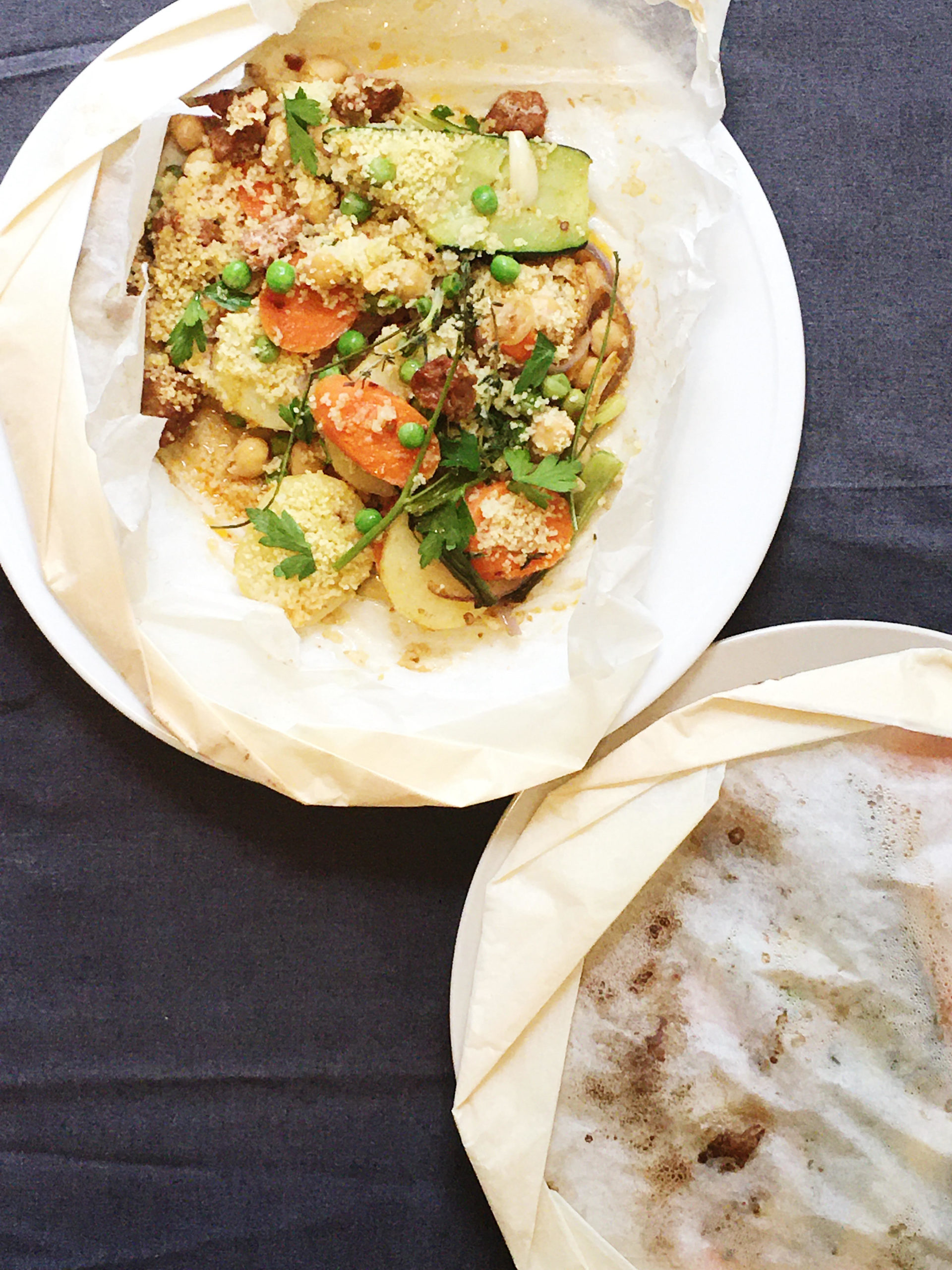 Cooking "en papillote" means cooking "in pouch" in French. All the ingredients are wrapped up with a piece of parchment paper or tin foil, and then baked in the oven. The ingredients will stay moist and the flavors inside the pouch will perfume the entire dish. I am adding couscous to this dish because the starch will soak up all the juices coming out of the veggies. Cooking en papillote is a useful technique for a busy home cook. In addition, the surprise element of opening the pouch brings joy and comfort to the table.
For the latest New Lifestyle Homecoming Series:
Couscous en Papillote
Serves: 4 portions
Prep Time: 10 minutes
Total Time: 30 minutes
Ingredients:
1/2 cup uncooked couscous
2 medium-sized Yukon potatoes, peeled and sliced to 1/2-inch thick
3 medium-sized carrots, peeled and sliced to 1/2-inch thick
3 medium-sized zucchini, halved lengthwise and then cut into 3-inch long
6 cloves fresh garlic, sliced
1 cup sliced red onions
2 teaspoons ground cumin
2 teaspoons ground coriander seeds
1 teaspoons paprika
1 tablespoon + 1 teaspoon of salt
4 pieces Italian hot sausages, get rid of the casings and break them into the size of Swedish meatballs
4 stalks scallions, cut into 3-inch long
1/2 cup frozen green peas
1 cup chickpeas, drained
Few sprigs of thyme
Few sprigs of parsley stems, after the leaves have been picked
Parsley leaves, for garnish
Pre-heat oven to 425F
Rince couscous with cold water and strain. Let couscous sit in the strainer for 15 minutes. Fluff the couscous with a fork.
Cut the potatoes, carrots, zucchini, garlic, and red onions, and toss everything in a bowl with cumin, coriander seeds, paprika, and salt.
Lay out a sheet of parchment paper or tin foil, the size will depend on the amount of ingredients you are cooking for each portion (this recipe is 4 portions). Scoop a generous amount of vegetables and place them off the center on the parchment paper. Add chickpeas, green peas, and Italian sausages. Add couscous on top, followed by placing few sprigs of thyme and parsley stems.
Fold over the bigger half of the parchment paper and fold in edges along the ingredients to seal, like making an empanada. Right before sealing the parchment paper completely, pour in few tablespoons of water and seal it tight.
Bake the pouch in the oven for 20 minutes. Use a small knife to cut the pouch open at the middle and let the steam come out. Once it's cool to handle, tear open the top to reveal the entire dish. Drizzle with more EVOO and garnish with parsley. Serve hot and bon appétit!