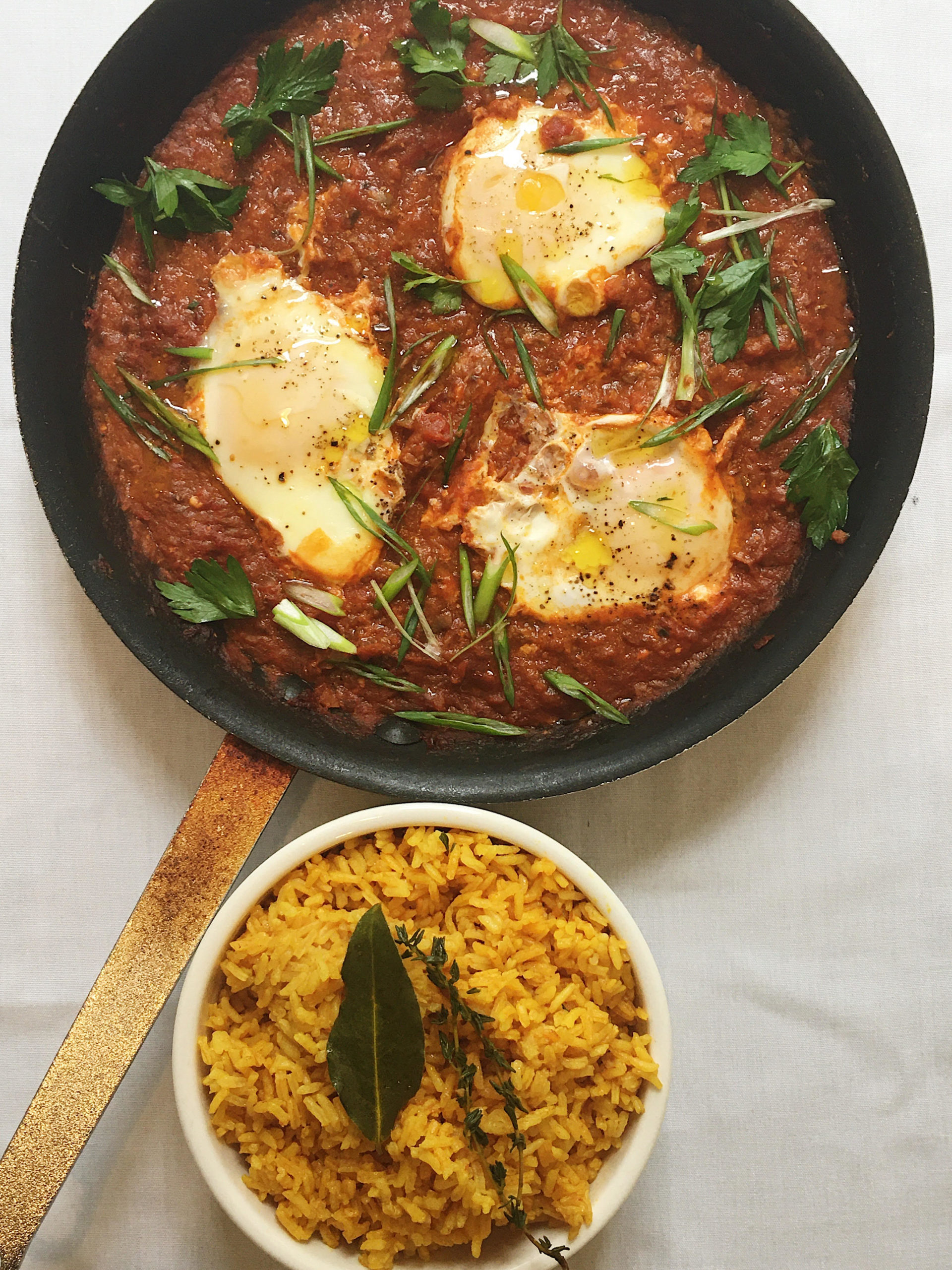 Shakshuka comes from North Africa, where spices are abundant. Shakshuka is made of a rich and spiced tomato sauce with poached eggs on top. In this recipe, I chose to use cumin, coriander seeds, and paprika because they are common in households and simply the best for flavoring tomato sauce. Shakshuka also pairs well with rice; this rice recipe is brilliant because it has ginger and turmeric, which are popular in North African cuisine. Last but not least, shakshuka could be served as breakfast, lunch, or dinner!
For the latest New Lifestyle Home Cooking Series:
Shakshuka with Ginger Turmeric Rice
Serves: 4 portions
Prep Time: 30 Minutes
Total Time: 1 Hour
Ingredients:
For Aromatic Rice:
3 tablespoons EVOO
1 and 1/2 tablespoon finely chopped ginger
1 teaspoon turmeric
2 tablespoon tomato paste
1 and 1/2 cup long grain rice
2 and 2/3 cup water
1/2 teaspoon salt
For Shakshuka:
1/4 cup cooking oil
1 cup finely cut carrots
1 cup finely cut onions
1 cup finely cut celery
1 cup finely cut button mushroom
2 teaspoon salt
1 teaspoon cumin
2 teaspoon ground coriander seeds
2 teaspoon paprika
1 and 1/2 cup crushed tomato 
1 tablespoon Sriracha (optional)
1/2 cup water
4 Eggs
Ground black pepper, for seasoning the eggs
Salt, for seasoning the eggs 
2 tablespoons chopped scallions, for garnish
2 tablespoons parsley leave, for garnish
To make aromatic rice, cook ginger with salt in olive oil on medium heat until fragrant. Stir in turmeric and toast until fragrant. Add tomato paste and stir to combine. Add rice and toast until fragrant. Add water, cover and bring to a boil, and then turn down to simmer. Once the water is completely absorbed, leave the cover on for another 10 minutes and then fluff with a fork.
To make shakshuka, inside of a skillet, cook carrots, onions, celery, and mushroom with oil on medium high heat until softened, and season with salt. Add cumin, coriander seeds, and paprika and cook until fragrant. 
Add crushed tomatoes, water, and Sriracha. Bring everything up to a simmer. Cook the tomato sauce until thickened, but still fluid. Adjust seasoning with salt.
Keep the tomato sauce on medium-low heat and bubbling, using a spoon to make three dented spots on the surface and crack the eggs into them. Season each egg with a pinch of salt and ground black pepper. 
Cover the skillet with a lid or a piece of tin foil and cook the eggs until the whites are set and the yolks are still runny. Cook the eggs longer if well-done eggs are desire. 
Serve shakshuka with scallions and parsley with a side of ginger turmeric rice. Bon Appétit!