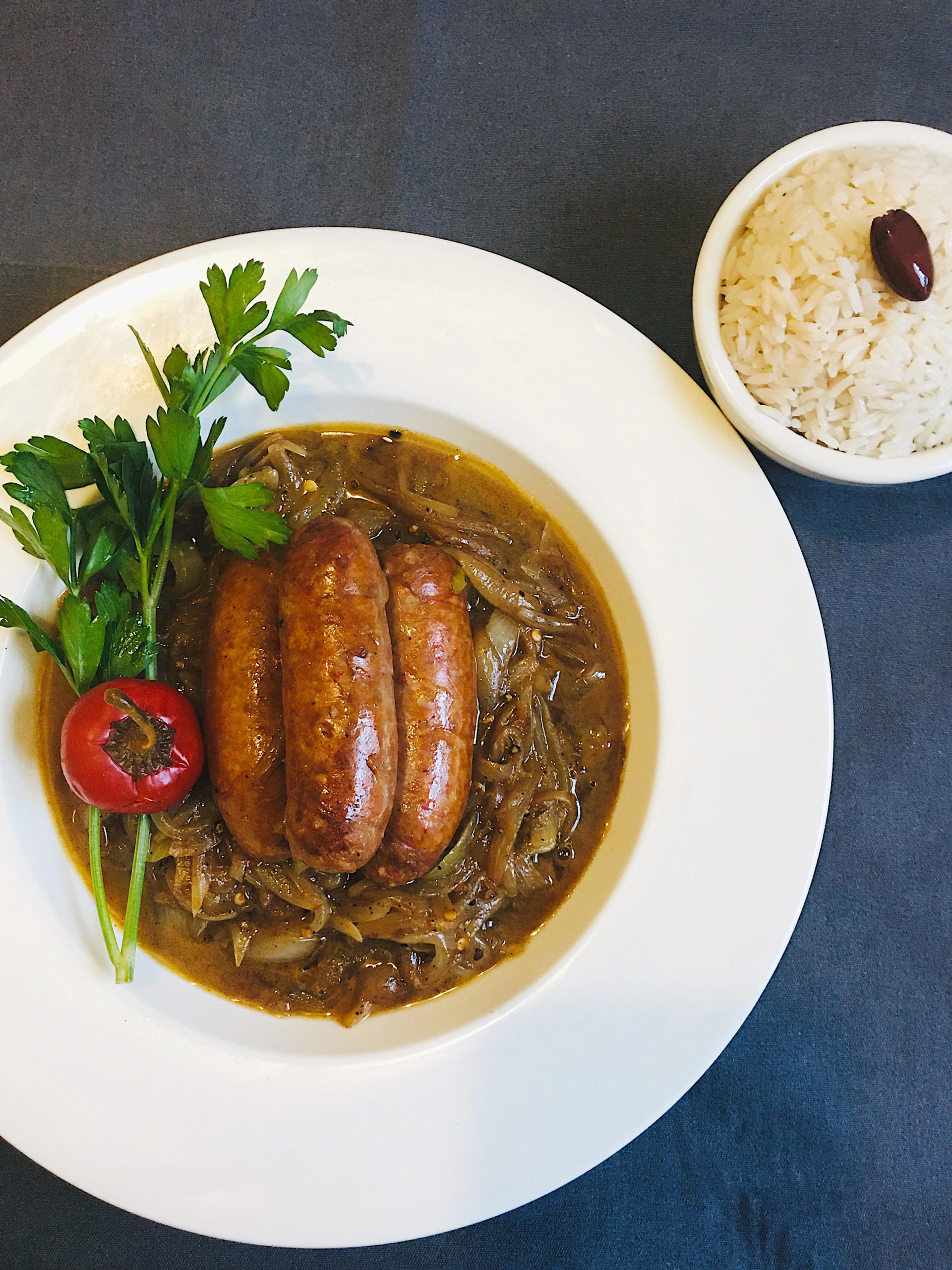 We are going to focus on using only salt, black pepper and chili flakes this week. Since we are going to be wfh for a little longer, practice using these three seasonings could help you keep the cooking simple and fast, without feeling committed to doing a chore. Our first dish is Black Pepper Onions and Sausages. Black pepper and onions are best friends and they compliment sausages really well. This dish is my homage to fried rice, a version of it I ate growing up, with black pepper onions and Chinese sausages, which in my opinion, is the Queen of All Sausages!
For the Latest COVID 19 Home Cooking Series:
Black Pepper Onions and Sausage
Serves: 2 adults & 2 children

Prep Time: 15 Minutes
Total Time: 40 Minutes
Ingredients:
For Onions and Sausages
5 Italian Hot Sausages
3 cup sliced onions, about 2 medium size
1 teaspoon Salt
1 teaspoon ground Black Pepper
1/2 teaspoon Dried Chili Flakes
1/3 cup Chicken Stock, or water
1 tablespoon chopped Parsley, for garnish, optional
For Olive Rice
450g (2 + 1/4 Cup) Long Grain Rice (Jasmine or Basmati)
45g (4 Tablespoon) Canola Oil
1 tablespoon minced Ginger
1/2 cup pitted Kalamata Olive, roughly chopped
700g (approximately 3 cups) chicken stock or water
Use a skillet, add 1 tablespoon of oil and heat it up on medium heat until shimmering. Add sausages and cook them until nicely browned on the outside. Take the sausages out of the skillet and add the onions. Season onions with salt, black pepper and chili.
Cook onions until they are golden brown and deglaze the skillet with chicken stock or water. Bring the liquid to a boil and turn down to simmer.
Put the sausages back on top of the onions. Cover the skillet and let the onions and sausages stew until they are cooked. Once the sausages feel bouncy and stiff, then they are done. Alternatively, insert a thin metal skewer into the middle of a sausage and then feel the temperature of the skewer. If the skewer is hot, then sausages are done.
Meanwhile, cook rice. Using a medium size pot, heat up the oil on medium heat and cook ginger gently until fragrant. Add rice and olives to toast until fragrant. Add water and bring it up to a boil and then simmer, with a lid on.
For this recipe, rice will take about 10 to 15 minutes to cook after the liquid has come to a boil. Once the liquid is gone, turn off that heat and let the rice steam further with a lid on.
To finish, you could either serve onions-and-sausages separately from the rice, or together over rice. Sprinkle some chopped parsley for garnish and flavor. Bon Appétit!