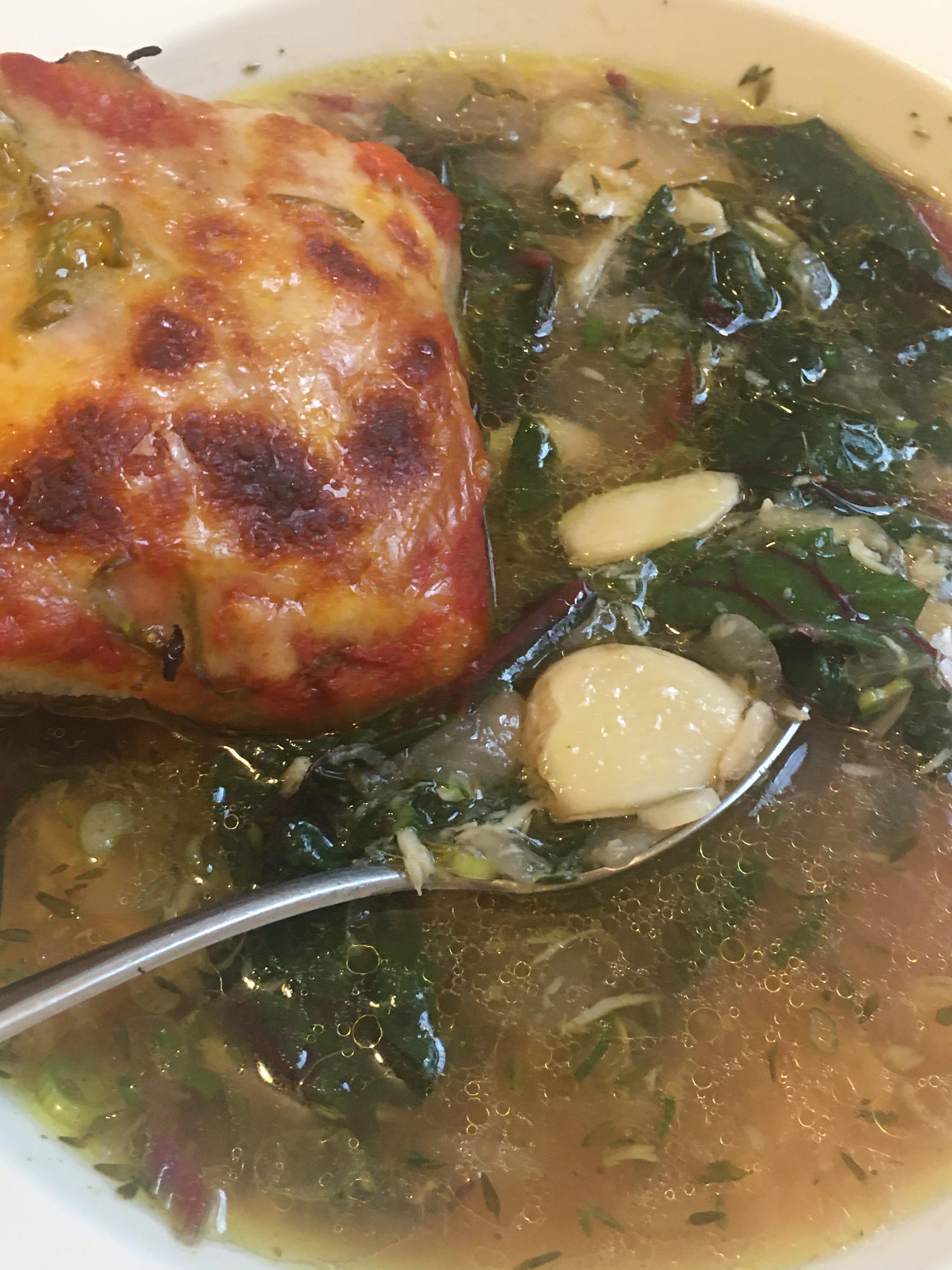 (Roasted Garlic Soup, by Reggie Soang)
Garlic is a work horse in my kitchen – garlic adds depth, garlic enhances flavors, garlic adds texture, garlic kills vampire…garlic is my hero! By roasting garlic, garlic becomes sweeter and tastes less harsh, and they become the perfect item for soup or condiments. I first made roasted garlic soup 10 years ago, and I haven't forgotten the simplicity of this dish and how comforting it made me feel after a long day. My recipe is really just a guideline…there's no rule as long as you have a fistful of roasted garlic in your pot!
For the latest COVID 19 Home Cooking Series, I present you:
Roasted Garlic Soup
Serves: 2 adult & 2 children
Ingredients:
5 heads Garlic, to be roasted
1/4 cup EVOO
1 Yellow Onion, medium dice
3 sprigs Thyme
1 Bay Leaf
Small piece of fresh chili
1/2 teaspoon whole Black Peppercorn
1 small knob of Parmesan
1 Knorr Chicken Bouillon Cube
2 quarts (8 cups) Water
Swiss Chard, leaves and stems separated
1 Sprig Scallion, sliced
2 cloves fresh Garlic, grated
Salt to taste
Cover whole heads of garlic with EVOO and wrap garlic in tin foil. Roast Garlic in 350F oven for 40 to 45 minutes, until fragrant and soft
Meanwhile, using a medium pot, gently cook your onions until translucent and soft, add herbs and peppercorn and cook until fragrant.
Once garlic is done, peel each cloves out of the shell and add to the pot. Add water, bring to a boil and simmer for 45 minutes.
Meanwhile, wash and clean swiss chard. Tear off the leaves and break them into small pieces. Cut the stems into batons on bias, set them aside.
To finish the soup, add scallions and grated garlic for freshness. While the soup is still hot, add swiss chard to wilt and chicken bouillon cube to season.
Ladle garlic soup into a bowl and garnish with drizzles of EVOO. Bon Appétit!