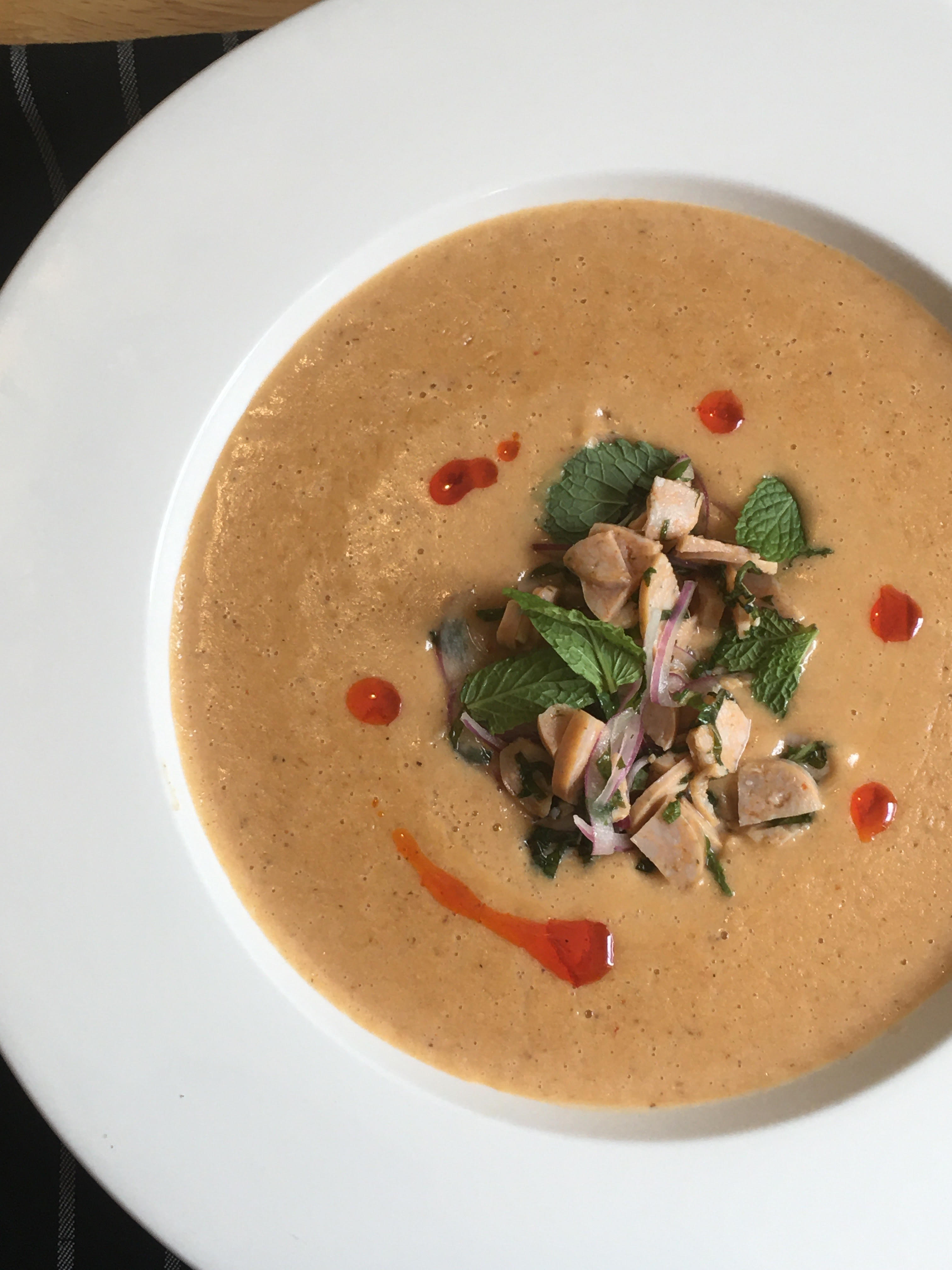 (Coconut Thai Curry White Bean Soup, by Reggie Soang)
One of my favorite restaurants, Superiority Burger, came up with idea of coconut potato soup. The soup was so simple and delicious. I thought the combo of coconut and potato works perfectly well with white beans and Thai Curry; therefore, I decided to put them together in my 1-pot meal.
Coconut Thai Curry White Bean Soup
Serves: 2 adult & 2 children
Ingredients:
For Soup:
4 cups Soaked White Beans
4 medium size potatoes, peeled
6 pcs Star Anise
2 Bay Leaf
10 cups water
1 quart (2 cans) Coconut Milk
4 Tablespoon Red Thai Curry Paste
1 teaspoon MSG
2 teaspoon Salt
1 teaspoon ground Black Pepper
4 teaspoon soy sauce
For Larb:
1 cup chopped Italian Hot Sausage
1/4 cup Red Onions, thinly sliced
1/4 cup Mint, roughly chopped
1 Tablespoon Lemon Juice
To make the soup, put potatoes, beans, bay leaves and star anise in a pot, bring to a boil and simmer until potatoes and beans are cooked through.
Meanwhile, make larb. Roast sausages in the 350F oven for 15 minutes. Sausages are done when they feel bouncy. Let sausages cool and chop them roughly.
Mix chopped sausages with red onions and mint. Add lemon juice for acidity
When the potatoes and beans are done, drain them and reserve cooking water. You will end up with about 1 quart of liquid
Using a blender, blend everything in batches until fine and smooth
Using the same pot, add 2 tablespoon of oil and roast curry paste on medium heat until fragrant, add the blended soup back and mix to combine
Ladle soup into a bowl, top off your soup with larb and garnish with chili oil. Bon Appétit!