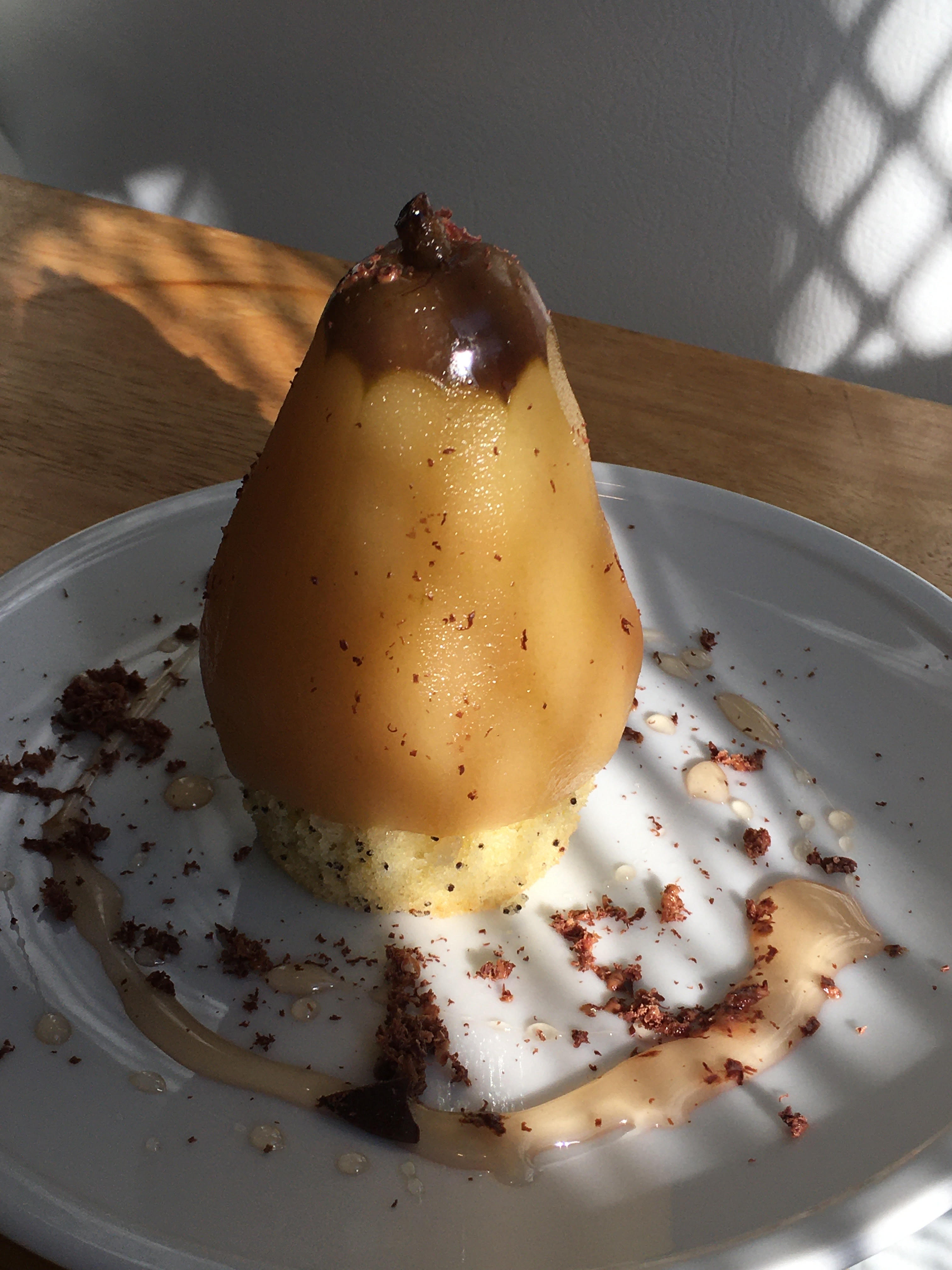 (Poached Pear, Lemon Poppy Seed Cake, and Dark Chocolate, by Reggie Soang)
Poached Pears are one of my favorite desserts. I love using Anjou Pears for its meaty texture. Pears are cheap and works very well with baked goods and ice cream. Since I have abundant of muffins in the house (lemon poppy seeds to be specific), I decided to use my poached pear with a muffin and grated dark chocolate.
For the latest COVID 19 Home Cooking Series, I present you:
Poached Pears, Lemon Poppy Seed Cake, and Dark Chocolate
Serves: 2 adults
Ingredients:
2 Anjou Pears
5 cups Water
2.5 cup Sugar
1 Cinnamon Stick
Pear Peels,
1/2 lemon, juiced
To Serve With:
1 Lemon Poppy Seed Muffin, cut in half and reserve the muffin top
Dark Chocolate
Peel pears and squeeze lemon juice over them to keep them from oxidizing (turning brown)
Bring sugar syrup to a boil with pear peels and juiced lemon trim
Turn the heat down and place pears inside the hot syrup to poach (the poaching liquid should only bubble ever so slightly to none). The poaching time could vary depends on your heat level. Start checking your pears every 10 minutes after the first 15 minutes passed. To check on pears, using a skewer to poke the thickest part. The skewer should go through without any resistance.
When pears are done, cover the pears and leave them in the syrup to cool.
To serve, reduce 2 cups of the poaching liquid to syrup. Cut a muffin in half, reserve the muffin top for breakfast and glaze the bottom half with pear syrup. Sit the pear on top of the muffin and drizzle syrup around the plate. Finish with grated dark chocolate. Bon Appétit!