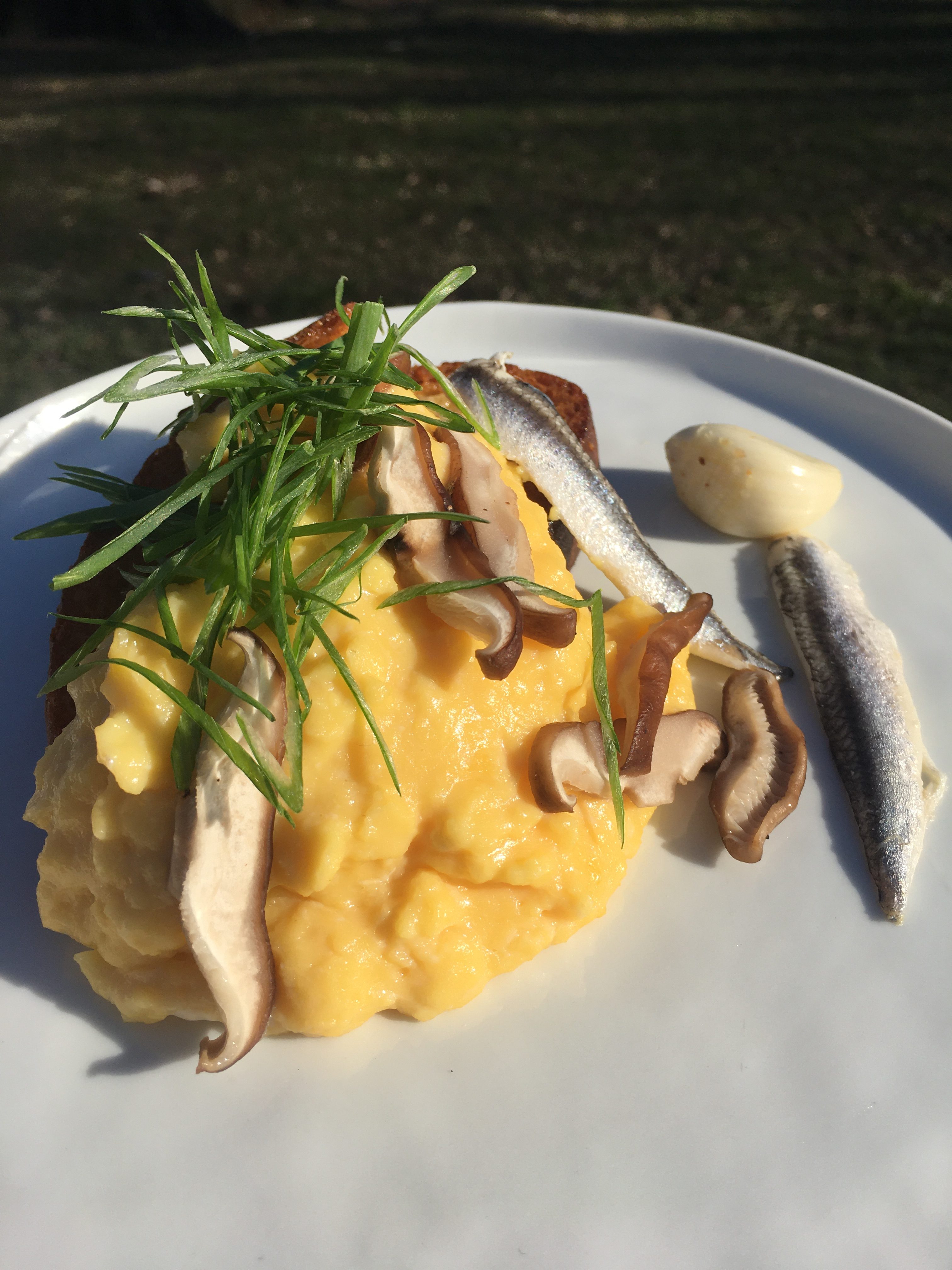 (Scrambled Eggs, Shittake Mushroom, White Anchovies by Reggie Soang)
I am often asked about my reasons for choosing to work in the restaurant industry, and my answer has been the same and consistent…because I love cooking, and I have found the calling to become a cook because I wanted to learn how to do it better. However, I've never managed to reflect on my choice in depth because my job has consumed me, and I am also scared to find out if my choice had been unfitting…or worse, wrong.
I remember after watching a video on Gordon Ramsay making scrambled eggs, I thought to myself…I'd like to do that for my future wife and kids every Sunday, and most of the New Yorkers on Saturday Morning (I actually enjoy working a brunch shift…an inside joke for my fellow cooks and chefs). My sheer passion for cooking led me to put on a suit and headed into NYC for a job interview.
Around the same time when I grew to be obsessed with all the Gordon Ramsay videos, I traced his work back to working for a chef, named Marco Pierre White. Chefs and cooks idolize Marco Pierre White because of his immaculate craftsmanship and relentless pursuit for Michelin stars. I was quickly drawn to an industry where aesthetic and taste of the food would be judged. In addition, growing up as an immigrant, I've battled identity crisis; therefore, it was easy for me to choose a job that could point me in the right direction and give me an identity…a chef, perhaps.
I've also been drawn to work in the kitchen because I see the similarity of cooking and playing on a team sport. I liken prep to a practice, and service to a game. Every cook in the kitchen needs to participate in the prep, as players to a practice, and then executes, as the players to any game or match. A great kitchen works in sync to deliver delicious food in a timely fashion, as a great team plays with harmony with discipline. I've likened my job to being a professional athlete, who practices repetitively in order to perfect a scheme or move, as in my case, a menu or cooking technique.
In addition, cooking allows me to stay connected to my closest friends. My closest friends helped me pave ways to start my own business. Though defunct, I've never deemed my business entirely a failure; I had my closest friends critiqued me and gave me fresh perspective on my food and services, and I believe I had learned valuable lessons on running a business from their support.
My obsession with Gordon Ramsay's videos had led me to work in the restaurant industry. For over a decade, my love for cooking hasn't waned. Cooking is soul searching. Cooking is a team sport. Cooking develops leadership skills. Cooking helps me stay connected. However, the restaurant industry has drastically changed over the course of my career, and I've contemplated if my desire to cook in a restaurant has slowly diminished. Regardless, I came to work in the restaurant industry because I love eggs, I love team sports, and I love my friends.