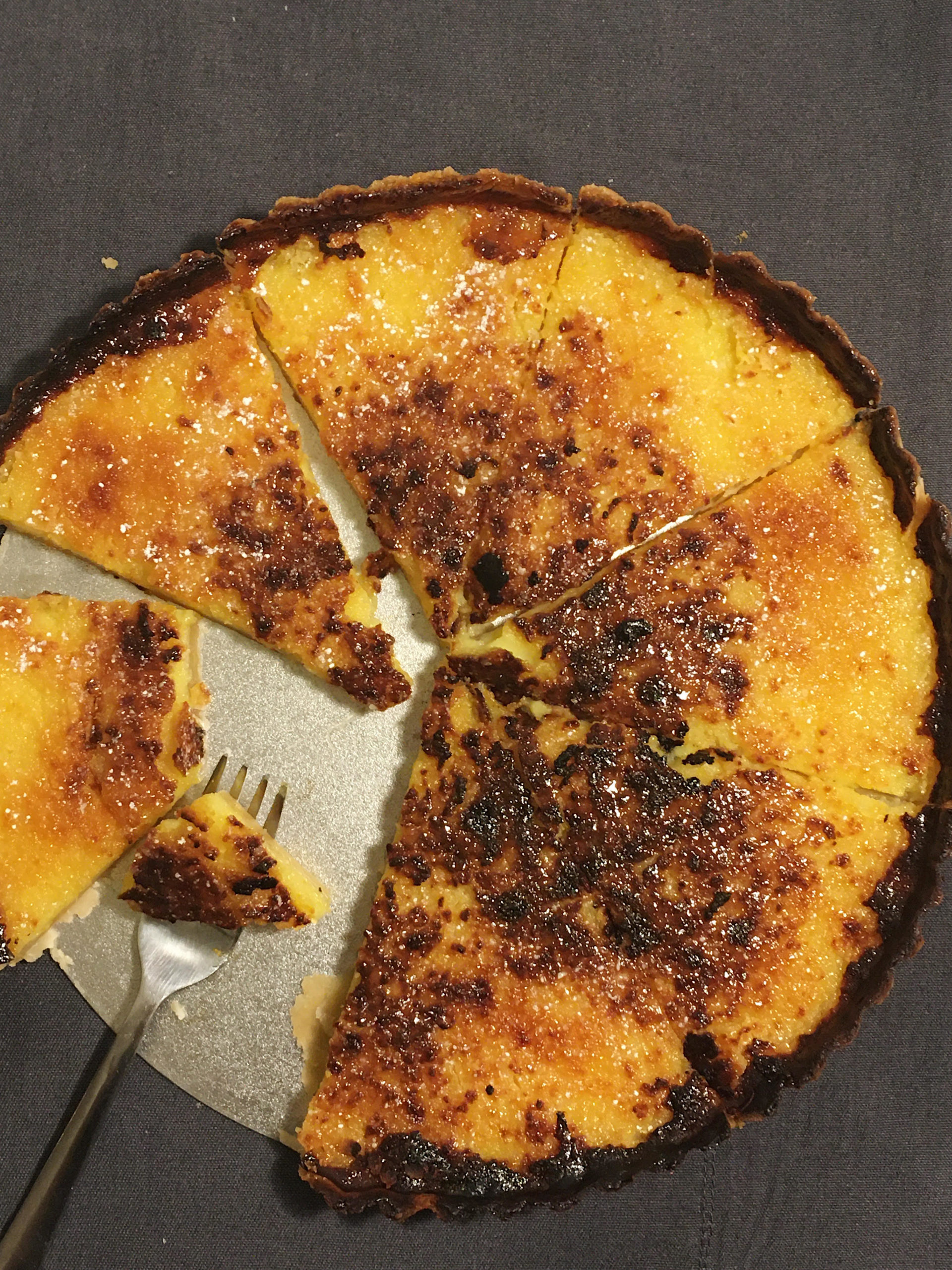 Growing up in Taiwan, lemonade was a popular thirst quench in my household, besides water. Lemonade made with fresh lemon juice and raw sugar cane sugar was simple and delightful.  My mom taught me how to make my first batch of lemonade, so I thought I would make a lemon tart, with a good amount of fresh lemon juice and its zest to mimic the taste of my childhood lemonade, to celebrate Mother's Day. 
For Mother's Day, 2020:
Lemon Tart
Serves: 4~6 portions
Prep Time: 10 Minutes
Total Time: 1 Hour 30 minutes (not including batter resting time)
Ingredients:
Store-bought tart shell
9 eggs
380g (2 cups less than 1 tablespoon)  sugar
5 lemon zest
170g lemon juice (about the juice of 5 lemons)
225g heavy cream
Confectioner's sugar for dusting
Pre-heat oven at 350F
In mixing bowl, whisk eggs and sugar together until ribbon stage, which if you lift the batter, it will fall like ribbons back into the mixing bowl    
Add lemon juice and zest, stir with a rubber spatula to combine
Add heavy cream and stir gently to combine. Refrigerate the lemon batter for 1 hour.
Meanwhile, roll out and fit the store-bought pie shell into your tart pan (mine is 9-inch). Push the pie shell tight and neatly against the sides. Let the excess pie shell drape over and leave it as it is. Dock the pie shell with a fork all over. And chill for 1 hour.
When time is up, blind bake the pie shell first. Put a layer of tin foil or parchment paper inside the pie shell and put dry black bean or pie weights to keep the pie shell flat. Bake the pie shell for 10 minutes.
After 10 minutes, gently use your thumb to push down on the excess pie shell on the sides. Put the pie shell back in the oven to bake for another 10 minutes.
Lower the oven temperature to 250F when the pie shell is ready. Pour the lemon tart fillings until it fills up 3/4 of the way. Bake the tart in the oven for 45 minutes. Cool for 15 minutes.
Dust the top of the lemon tart with a thin layer of confectioners' sugar and put the tart underneath of the broiler to caramelize the sugar. Once sugar is caramelized, cool until sugar turns brittle before cutting it.
Serve lemon tart at room temperature. Bon appétit!