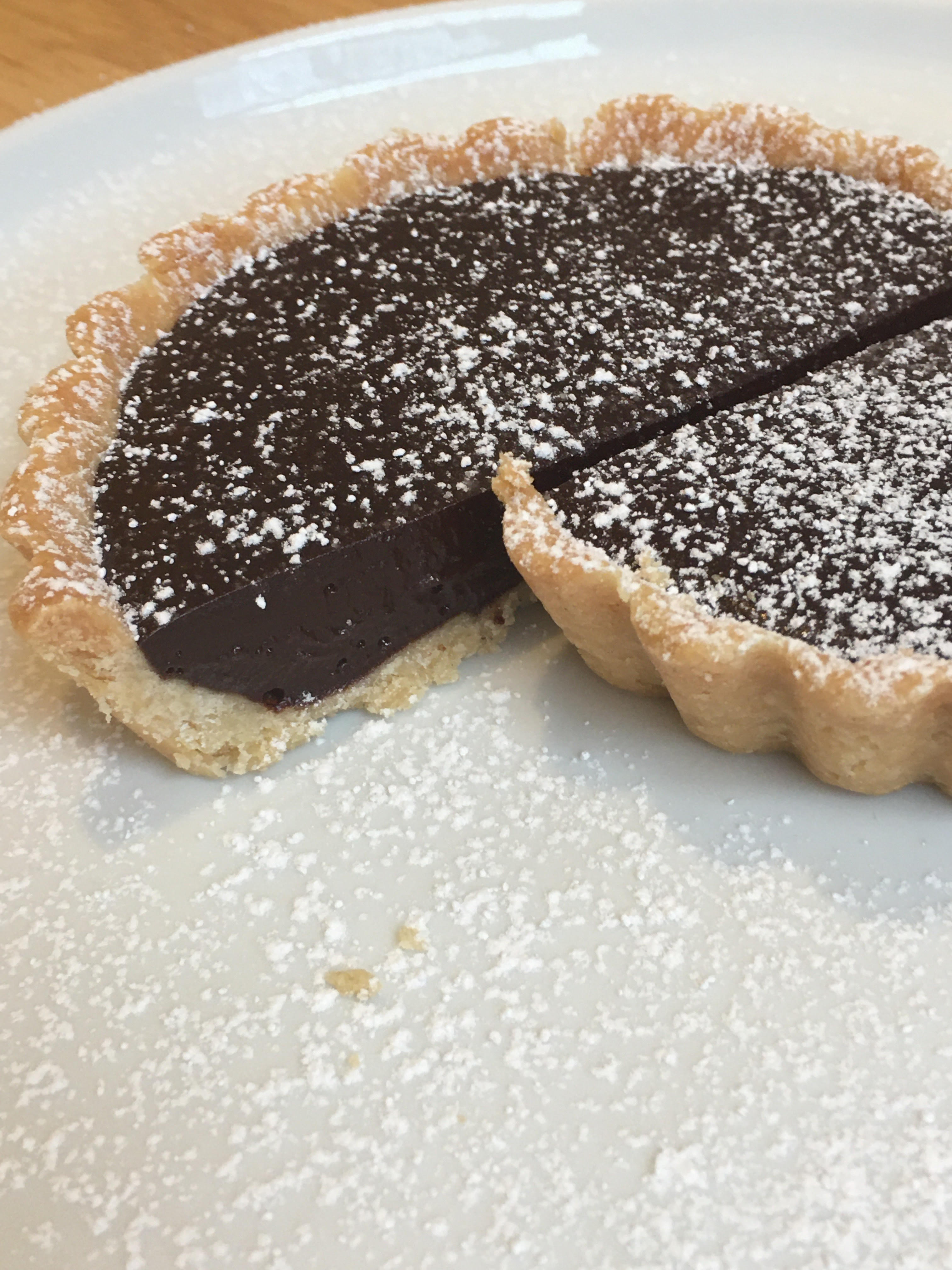 (Chocolate Tart, by Reggie Soang)
Baking a tart is definitely one of the most rewarding project to accomplish in baking. It's weekend! Let's bake some tarts!
For the latest COVID – 19 Home Cooking Series, I present you:
Chocolate Tart
Serves: 2 adults & 2 kids
Ingredients:
8 Tablespoon (1 stick) Butter
1/3 Cup Sugar
1/4 teaspoon Salt
1/4 teaspoon Vanilla
1 Yolk
1 and 1/4 Cup (200g) Flour
For Ganache:
6 ounce Bittersweet chocolate (or semi-sweet)
1 Cup Heavy Cream
Take out your butter 1 hour before and let it soften
Combine salt and flour, set aside
Beat softened butter with a stand mixer or electric mixer, on high speed, until fluffy. Add sugar and continue to mix until butter turns pale and creamy. Mix in yolk and vanilla into butter on low speed.
Add your dry ingredients in 3 stages. Mix flour into butter on low speed to prevent dough getting tough and gluey.
Tip the dough onto a plastic lined surface. The dough will be crumbly. Use both hands to push crumbs together to form a dough. Shape the dough into a wheel. Wrap the dough in plastic and rest in refrigerator for 3 to 4 hours.
Meanwhile, bring your cream up to a boil and turn it off right away. Pour hot cream over chocolate and gently fold cream into chocolate to combine. Put a piece of parchment paper on top to keep it from drying out. Set aside.
After 3 hours, take out your tart dough and let it sit in room temp for 30 to 40 minutes until dough is soft enough to roll out.
Flour your counter and roll your dough to 1/16 inch thick. For this recipe, the dough will be enough to make six 4-inch tarts, or one 10-in tart. For making 4-inch tarts, divide the dough into 6 portions. Flour an off-set spatula and slide it underneath of a portion and lift it into the tart mold. Gently press the dough to fit and use your thumb to rub off the excess on top of the edge. Use the excess dough to patch up any cracks.
Dot the bottom of the tart and refrigerate for 40 minutes before baking them off.
Meanwhile, pre-heat oven to 350F
Put parchment paper on your tart shells and put some dried beans on them to keep the shells from puffing during blind bake. Blind bake for 15 minutes, and remove the beans. Put tart shells back into the oven for another 5 to 7 minutes to get some color
Once the tart shells are baked, let them chill. Remove the molds and pour in ganache. Let ganache set either outside or in the fridge.
Dust confectioners sugar on your chocolate tart and serve. Bon Appétit!